Barbara M. Petitti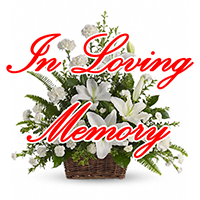 Born in Waterbury, Connecticut on March 19, 1942.
Departed in Palm Bay, Florida on August 4, 2018
Barbara M. Petitti, 76, passed away on Saturday, August 4, 2018 in Palm Bay. She was born March 19, 1942 in Waterbury, CT.
Barbara was a dedicated wife, mother, grandmother, GiGi and friend. Her passions were her family, Miss Gracie, her friends, plants, butterflies and dragonflies.
Her family include her children Robert Jr., James, Brian, Mark, Richard, Kenneth, Mary and their spouses. She has many grandchildren and great-grandchildren.
She was preceded in death by her husband, Robert; brother, William; also other family and friends.
She is truly loved and missed by many. She will never be forgotten.
14 entries.
I see you in every Butterfly that graces the sky, I love you Aunt Barbara, kiss my father for me.
Our deepest condolences to all of the family.may Barbara rip.
Aunt Barb, I'm going to miss our emails back and forth especially the emails about our pups. My sincere condolences to the family. (Gosh I haven't seen many of my cousins in years). Sending hugs and love to all. RIP Aunt Barb Love, Tammie 💜
We will miss you Barb...as the other grandma, you will be in our hearts forever and the guardian Angel for our grand children. God Bless ❤😇
Mary I am so sorry for your loss. May God Bless you and your family during this difficult time .
She is with Bob now. Blessings to all.
Rest In Peace Aunt Barb, you are now in heaven with Uncle Bob. Prayers to all my cousins xo
So sorry to hear of your loss, my heart goes out to you all. 😢
So sorry to hear about your mother. She will be missed very much
So sorry to you all, God Bless to the family and friends of Barbara.
You Will Be Very loved and missed dearly God Bless you and your loving family.
So sorry for your precious loss, my heartfelt sympathies go out to you and your family!
So sorry..I always liked Aunt Barbara..she had a big heart and will be greatly missed.
So very sorry to hear of Moms passing. Love and prayers to all of you.