Bernice Arnold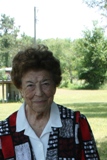 Born in Elkin, North Carolina on September 5, 1929.
Departed in St Cloud, Florida on May 16, 2018
Bernice Arnold, 88 years old of St. Cloud, FL passed away on Wednesday May 16th in St Cloud. She worked for the Florida Forestry Service and is survived by her sons Chuck (Connie) Arnold of St Cloud, FL, Ronnie (Judy) Arnold of Melbourne, FL, two grandchildren Kelby and Caryn, six great grandchildren Bryer, Ensley, Parks, Harlyn, Ivey and Bryan, brothers Sam and Roger Cox and sister Kathleen.
Calling will be Monday May 21st from 10am to 11am with a service to follow at 11am in the Brownlie – Maxwell Funeral Chapel.
6 entries.
I was truly Blessed to have been her friend. She would always say I saved her life but if the truth was know she saved my.. I will miss you until we meet again.. and I send all my love to the family. I will never forget all our time together. I love you so Bernice...
My deepest sympathy to the family - Bernice was a wonderful person and may God give you all comfort at this time of loss. You have many good memories to look back on!
Our condolences for your loss. We all will miss her. I am so glad I could have made her happy in her last days by making her the cross quilt that she was so proud of
She will be so missed. I loved hearing when she told the stories of growing up...she could be serious and so funny. I always tried to have her a sweet potato pie when she visited NC...I know she is rejoicing today...she had many waiting for her in Heaven.
Love love love ❤️ BERNICE. We made some really good memories. My heart goes out to the entire family during this time. May God bless and comfort you. Love, Carol
I am so glad we could have put some joy in your life with your quilt you enjoyed so much. I am sure you and Ed are together again. Love you and you will be missed