Betty-Jo Birney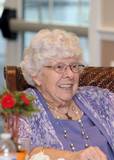 Born in Chewelah, Washington on May 13, 1924.
Departed in Palm Bay, Florida on June 29, 2018
Betty-Jo Birney, of Palm Bay, FL, passed away on Friday, June 29, 2018 surrounded by her family. She was 94 years old.
Betty-Jo was born on May 13, 1924 in Chewelah, Washington to Carson Thomas Peters and Letha Waters. The family eventually settled in Rice, Washington where Betty-Jo graduated as Valedictorian of her class from Kettle Falls High School.
She joined the United States Marine Corps in 1944, and served as a corporal during World War II. While she was stationed in Bremerton, Washington, she met John Donald Birney who she married on June 15, 1946. John and Betty-Jo raised their 5 children in Massapequa, New York. They retired to Florida in 1982.
Betty-Jo is survived by her children, Susan Rudmann and husband, Edward, Dan Birney and wife, Mary Anne, Terry Birney, William Birney, John Birney and wife, Gail, 13 grandchildren and 11 great-grandchildren, and her sister-in-law Lois Peters. She was preceded in death by her husband, John Birney, her infant son, Thomas Birney, her brother, James Peters and her parents.
Betty-Jo lived her life with kindness, compassion, gratitude and love. She was a devout
Catholic and was an active member of St. Joseph's Catholic Church in Palm Bay for many years. She was devoted to her family, and more than anything she loved the family's frequent gatherings. She was an example of love, faith, and selflessness to her family and all who knew her. She enjoyed traveling, reading, baking, needlework, knitting and crocheting.
Visitation will be held on Monday, July 2nd from 4:00 pm until 7:00 pm at the Brownlie-Maxwell Funeral Home on Palmetto Avenue in Melbourne. A Mass celebrating her life will be held at 1:00 pm on July 3rd at the Miller Street Church in Palm Bay.
In lieu of flowers, donations can be made in her memory to Promise in Brevard.
11 entries.
Dear Mike and family we are thinking of you all at this time of sadness.
Prayers for the Birney family during this difficult time. May God's love and peace be with you. Hugs from your Baton Rouge adopted family. 💕
My time was short with her but she made a lasting impression on me. What a magnificent lady and how blessed I am to have known her. May all of you treasure the memories you have of Mrs. Birney. She will be missed but never forgotten. Sincerely, Kelly
We are sorry for your loss, Susan, Ed, Mike, Margaret, and family.
JB and family: Sorry to hear of your loss. May your faith provide comfort as you treasure the memories of a beloved mother and grandmother.
I am so truly sorry for loss. May God's peace surround and comfort you all during this difficult time.
Our sincere condolences to the entire Birney family on the loss of a wonderful woman, who we were honored to know. May you find comfort in knowing how loved Mrs. Birney was by all who knew her, and that she is now in God's hands.
So many accomplishments, four special and unique children, a wealth of hopes and dreams fulfilled, so many days well-lived and now a legacy to celebrate. I had the blessed opportunity of meeting and talking to your Mom through JB. She had a wonderful sense of humor and her devotion and love to her family was evident. Words, however kind, can't mend what you must be feeling but I care and share her loss with you and pray and hope for your comfort and peace of mind. Peace, Judy
Sending our love and prayers to each of you! Frank, Shannon, Maddie, Ryan and the boys
May you RIP and THANK YOU FOR YOUR SERVICE.
My thoughts are with the Birney family. Betty-Jo was a very lovely woman. I always enjoyed talking with her. She raised a great group of people.