Curtis L. Robinson
Born in Loring Air Force Base, Maine on June 22, 1978.
Departed on March 5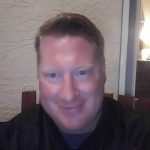 , 2018 in Melbourne, Florida
Curtis L. Robinson, 39, of Melbourne passed away on Monday, March 5, 2018. He was raised in Colorado and Retired as a US Navy First Class Petty Officer after serving for 16 years as a Fire Controlman and subsequently worked as a Software Developer. He moved to Brevard Co. in 2016 from Hampton Roads, VA, loved riding his motorcycle and spending time with his family, his son James was the light of his life.
Survivors include his wife Jenny, son James, parents Mark and Joan, brother Greg and sister Holly and nephew, cousins, aunts
and uncles.
A Visitation will be held on March 14th from 4:00pm until 6:00pm with a memorial service at 5:00pm at Brownlie – Maxwell Funeral Home Chapel.
7 entries.
I can't believe this, I just spoke with you that morning and now you're gone. RIP buddy, I'll see you on the other side. My condolences to the family, especially James and Mason 🙁
I am so sorry. My heart breaks for his family and his son.
Shipmate, friend and brother to me for over 20 years.. Red will be deeply missed. He touched a lot of lives, and love life to its fully. will be forever remembered in out Hearts.
Prayers to the family. So sorry for your loss. Until we meet again brother. ML&R
Red, who has always been a true shipmate and friend. to be honest was more like my brother. No matter the time or distance we always picked up where we left off like we were never apart. We laughed, played and worked hard beside one another on the ship, in foreign ports, in the garage, or on the water. he was very unique with his huge caring heart, smile and humor. He always had a way to made you smile or laugh no matter the occasion. The WORLD lost a beautiful person and Heaven gain an angel. He was loved by many and will always be within our hearts FOREVER.
Going to miss you Brother. My condolences to the family.
I will miss him!!! Condolences to the family.