Daniel Miles Sheridan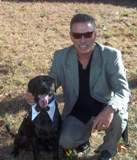 Born in Arlington Heights, IL on January 13, 1962.
Departed in Yankeetown, Florida on April 27, 2018
Daniel Miles Sheridan, 56, a devoted son and loving brother died Friday April 27th, 2018, with his family by his side. Dan was born in Arlington Heights, Illinois. He came to Brevard County in 1989 from Tampa and recently lived in Yankeetown, Florida.
He was a long time salesman at Southeastern Honda in Palm Bay and Lane Pontiac-Buick in Melbourne. He also owned his own roofing business. Dan was a very spiritual person and enjoyed spending time with his family, friends and his dog, Sarge. His sense of humor will be missed most of all.
He is survived by his sister Grace Gaittens of Melbourne; brothers Greg Sheridan (Alton) of Daytona Beach, James Sheridan of Franklin, Tennessee and John Sheridan-Giese (Jason) of Carver, Minnesota; many nieces and nephews; dear friends, Sherry Fowler, Mr. and Mrs. James "Hollie" Young, Deborah Whitley all of Yankeetown and the love of his life, his dog Sarge.
Calling hours will be held from 4pm to 8pm on Wed. May 2nd, at the Brownlie-Maxwell Funeral Home with services at 6pm. A memorial service will also be held at the Hospice House of Citrus County 3350 W Audubon Park Path, Lecanto, FL 34461 at a later date.
Mr. Sheridan will have a heavenly reunion with his parents; James, who passed away in 2003 and Judith who passed away in 2010.
Anyone planning expressions of sympathy is asked to consider Hospice House of Citrus County using the address above.
15 entries.
You were a great guy and a good neighbor! No more pain now my good friend. I will miss you,your smiles, your jokes, our Christmas "cookouts" and your kind spirit... I love you. God speed.
Sorry for your loss praying for the family
To the Sheridan Family We are so sorry for your loss We haven't seen Danny for quite a while but remember him being fun loving, carefree with a good sense of humor. We have many memories of the good times with all the cousins and family together. May you all find comfort in the many memories. Our prayers and thoughts are with you at this time. Love Sam and Audrey Baas and family
Dan was a great guy he will be dearly missed
I am so sorry Grace and family. I can not imagine what you all are going through! May God bless you all!
Danny is with his family, friends and all the saints with God in Heaven.
Shiela will be missed by all of her fellow Health First team and friends. My heart goes out to her family. Gayle
Danny is missed. He leaves a warm, happy memory. His humor and positive attitude will be remembered.
The Boerensen family sends love and prayers to the Sheridan family
Thinking of you John and your entire family after the loss of your beloved brother. May you find peace in the knowledge that his pain has ended. Sending love. Casie & Emily Marshall
The passing of a kind and gentle man, a rest well earned.
He was a great friend and will be greatly missed by many , thoughts and prayers are with Sarge and the family in this sad time my heart is with you all .
Passing of a gentle and kind man, a rest well earned.
My heart goes out to Shiela's family. She will be missed greatly. She was a Christian and we will all see her in the bye and bye. Shiela's Mikes' - Mike Sr, Mike Jr and Mikey III were so special to her. Her daughter-in-law, her twin brother and siblings were special to her too. I feel like I know her family for they were constantly in her conversations. Our sympathy, Lena & Tom Barbieri