Edward Harvey Hogan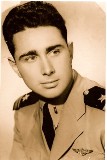 Born in New York, New York on March 17, 1922.
Departed in West Melbourne, Florida on May 25, 2018
Devoted husband and father, Edward Hogan died at Buena Vida Estates, West Melbourne, FL, on Friday, May 25, 2018. The son of Viola (Hay) and John Hogan, he was born on March 17, 1922 in New York City and was raised with his brother Allen in Jackson Heights, NY.
After enlisting in the Navy in 1942, he served as an airship (blimp) naval aviator during WWII, flying between Massachusetts, Cuba and Rio De Janeiro. He married Catherine Gillis at St. Francis Catholic Church, Weymouth, MA, on November 17, 1945. They celebrated their 71st wedding anniversary four days before her death in 2016. Graduating from St. Anselm's College, NH he attended Marquette University and then began a career in the Central Intelligence Agency which took him from Washington DC, to California and Florida.
Ed's family was his pride and joy. He loved the sea, all things Irish, esp. ND football, and travel, enticing his entire family to take a cruise to the Bahamas last summer. A devout Catholic, he loved the Mass and taught by example. For 96 years he followed his life's motto: 'Keep the Faith and Keep Your Sense of Humor.' He will be greatly missed by all who knew and loved him.
He is survived by his children: Patrick (Wilma) Irvington, VA; Msgr. Terence, Miami, FL; and Eileen Hogan Goodspeed, Northbrook, IL; (Infant baby Christopher deceased). Grandchildren: CMDR Brian (Leslie), Norfolk, VA; Christopher (Michelle), West Palm Beach, FL; Timothy (Liz), Burbank, CA; Nicholas & Kerry Goodspeed, Northbrook, IL. Great-grandchildren: Keelin, Jay, Finn, and Aria Catherine Hogan. Other relatives and their families include: Susan (David) Parker, Barbara Hogan, Valerie Collins, and George Disch.
Funeral Mass will be celebrated on Wednesday, May 30, 2018 at 10:00 AM at Old St. Joseph's Catholic Church on Miller Street in Palm Bay. Burial will follow at 3PM at Our Lady Queen of Heaven in N. Lauderdale.
In lieu of flowers, donations may be made to Sisters of St Joseph of St Augustine, ℅ Sr. J. Stoecker, 241 St. George St., St. Augustine, FL 32084.
5 entries.
Terry, thinking of you and your family and wishing you moments of peace and comfort as you remember a Dad who was so close to you.
Deepest sympathies on your loss. My thoughts and prayers are with the entire family during this time of sorrow. May God be with you and bring you peace of heart. With much love, Deb
God bless you Uncle Ed, may you Rest in Peace along side your beloved Catherine. You will be missed. I love you.
Mr. Hogan was most kind to me when as a seminarian with his son Terrance he came to my father's funeral Mass and grave side service. I have many memories of Mr. and Mrs. Hogan as they were an active part of our seminary life from 9th Grade through Major Seminary. I shall remember him and the family in my prayers
Ed, may your souls journey continue toward the light that you so devotedly brought to this earth. You have left behind a legacy of love and kindness that bears witness in your darling loving, daughter, Eileen that I am so lucky to call friend. I loved hearing the many stories over the years of your kindness, your strength your work and your loving family. You grew up in Jackson Heights along with my late mom Joan Eileen, you were born in the same year as my dad and served as a pilot as he did as well. My your soul soar and may peace reign in the hearts of all those that loved you. My sincere condolences to the Hogan family for your loss.