Elizabeth Grace Barnes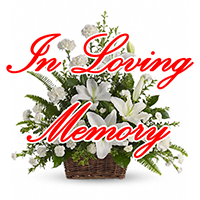 Born in Archibald, Pennsylvania on January 28, 1925.
Departed in Melbourne, Florida on May 16, 2018
Elizabeth Grace Barnes, 93, born in Archibald, PA and passed away on Thursday, May 31, 2018 in Melbourne. Elizabeth is survived by her, daughter, Kathy Barnes; grandson, Andrew Barnes. A Funeral Mass will be held on Saturday, June 9, 2018 at 11:00 am at Holy Name of Jesus Catholic Church.
2 entries.
My sweet Gracie; I am going to miss your sweet smile and your company. Our hearts hurt when we lose our friends and family from our earthly home. One day we will embrace each other again. You always made my day when your face would light up when Mom and I would come to see you. All tears are wiped away and all pain has gone. Rest in the arms of our loving God. I love you Gracie. Thank you for your love and your friendship.
Always a faithful friend and co-worker, devoted to her family. Very creative and a hard worker. She will be missed. Rest in Peace, my friend.