Evelyn Ann Pasonski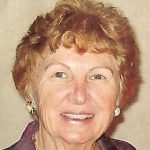 Born in Cleveland, OH on September 14, 1933
Departed in Melbourne, FL on April 9, 2018
Evelyn Ann Pasonski, 84 slipped into eternal life on April 9, 2018 at her home surrounded by love. She was born in Cleveland, OH on September 14, 1933. She was the third child of Michael and Mary Slotto. The family relocated to Grand Rapids, MI when Evelyn was 3 years old. She graduated from Catholic Central High School in 1951. They later relocated to Fremont, Ohio in 1952 where Evelyn met George Pasonski while he was home on leave from the Navy. They were married in 1955 and lived in Lafayette, IN where George graduated with a bachelor's degree in electrical engineering from Purdue University. After graduation their family relocated to Los Angeles, CA until 1961, when George accepted a position with Pan American at Patrick Air Force Base, FL. Evelyn loved everything about living in Florida, especially the warm weather and beaches. In 1989 she accomplished her goal and graduated from Brevard Community College.
Above all, Evelyn loved God and her Catholic faith. In her words, "God is good, no matter what." She was an active member of Our Lady of Lourdes Catholic Church. At OLL Evelyn was grateful for Fr. Karl Bergin, the daily 8:15 a.m. mass bunch, volunteering for the "golden goose" readers at the school, the Third Order of Mary and the Renew group. The Council of Catholic Women (CCW) ladies greatly enriched her parish life. She was also proud to be associated with the Florida Tech (FIT) campus ministry. She looked forward to going to the Brevard Correctional Facility every Saturday for 20 years, as she got back much more than she gave.
Evelyn treasured working at Harris Corporation in word processing, and then in the legal department. The Harris retirees association put a lot of fun in her life, and she looked forward to the meetings, and taking and publishing the minutes. The highlight of her week for many years was "Mimi day" with her grandchildren and the weekly "happy hour" with long time neighbors and friends. She very much enjoyed seeing her friends at the Pro Health gym and balance class. Evelyn also loved line dancing with the girls at Tropical Haven and being a "Friend of the Melbourne Library" and working at the book sales.
Evelyn will be remembered as a loving wife, mother and grandmother. Her generous good nature made her a friend to many. She was a wonderful blessing to her family and friends through her daily actions, which were thoughtful, giving and caring to those around her.
More than anything, Evelyn loved her family. She is survived by her daughter Connie Morrell and sons Barry, Tim (Kim), and Dale (Corynne).grandchildren, Rob, Patrick and Tyler Rauch, Jessica, Ryan, Christine, Reagan, Nick and Matt Pasonski and Alex Morrell, great grandchildren, Robby, Ryan, Lila, Evan and James Rauch, brother, William (Carol) Sun and many dear cousins, nieces and nephews who brought such joy to her life.
She was preceded in in death by her parents, husband George, daughter Sandi Rauch, brother Gene Slotto, and sister Polly Eberly.
Evelyn's family would like to thank Hospice of Health First, especially Jo Ann for the kind and compassionate care she received.
Visitation:
A Funeral Mass will be celebrated on Thursday April 12th at 11:30am in the Our Lady of Lourdes Catholic Church with calling one hour before the Mass.
Donations can be made to: Our Lady of Lourdes Catholic School, 400 Fee Ave., Melbourne, FL 32901
18 entries.
We all LOVE you Cousin Evelyn....your heavenly life will continue to BLESS our journey....Forever and Always !!XOXO "Those we love don't go away , they walk beside us every day--unseen, unheard, but always near, still loved, still missed and very dear." (Author Unknown)
What a wonderful example of what we are supposed to be! Thank you, Evelyn, for all you did for all around you! It was a privilege to know you.
My Dear Cousin Evelyn, No words can express your loss. You were always there for me especially after we moved to Florida. Our fun visits to your home, your sunny emails, your likes and comments on Facebook, and your and George's visits to our home were always welcomed. I remember you singing along at my 50th Birthday bash with the Barbershop quartet, your Christmas cards filled with a monetary surprise, your special trip with Connie to my late husband's funeral (when you yourself were just diagnosed), your constant encouraging support of my children with inspirational messages, and your unwavering Faith in God and love of the Church. Our whole family will miss you but we know that you are at Peace and reunited with the rest of the Slotta and Pasonski families. The song goes that "In Heaven there is no Beer". But, knowing you, you are toasting up there with my Mom, and Bill and George and God. You always knew how to get it done. I will send you off one last time at your funeral Mass and look forward to sharing these special memories with the rest of the family. You were one special lady and one marvelous Cousin. Rest in Peace. You will be missed by many. Cathie (and family)
I am so sorry for all of you. The last time I saw you Connie was at Patrick's wedding in Fremont. Your Mom was always a pleasure to talk to. Such a good person. I will miss her very much. She was a big comfort to me when I was going through my divorce. I know she is heaven now. God Bless you all.
My sympathy to Evelyn's family at this very difficult time. Rest in Peace, Evelyn
My deepest smypathy on loss of your Mother. I knew well when I deliver mail at Harris. My prayers are with the Family.
Evelyn has been an inspiration and such an encouragement to me. I will miss her friendly face and usual greeting of "Madam Pres". Rest well my friend. May you be embraced by Jesus.
Rest in Peace Cuz! How I enjoyed our emails!! Your Spirit, Love of God , and how you lived your life is an inspiration to all that knew you... and especially to me... Tears for sure , L&P always.......Love and Prayers. Michael Fabish....
It was a pleasure to know Evelyn when I lived in West Melbourne and was active in CCW. My sincere sympathy to her family. May the wonderful memories sustain you through this very difficult time. Rest in Peace, Evelyn.
One of the finest ladies I have ever met. I will always remember the kindness you showed to our daughter Mary ever time she was visiting.
Evelyn, Gracious, loving and an inspiration to me. Love her and will continue to love her. Evelyn embraced Life and Life embraced Evelyn.
My thoughts and prayers are with the Pasonski family. I am deeply sorry for your loss. I will be praying for your Mom and your family. She has now gone home to God.
We are blessed to have known Evelyn while in Melbourne. She was an angel on earth always thinking of and praying for others. Her life was truly an inspiration to all. As a card I once saw read "No time on earth is long enough to share with those we love or to prepare our hearts for good-by." We thank God for sharing his angel Evelyn with us. pat and jack spittal
It has been a pleasure to have known and worked with Evelyn through the OLL ministries. She has been a wonderful inspiration to all who knew her and will be greatly missed. I feel blessed that she was special friend. She is home now with our Lord and all her loved ones. Until we meet again Evelyn, rest in peace and in Gods' love.
When Sandi looked after my three children, Philip, Glenn and Jennifer, Evelyn was so kind to them. We have great memories. Accept my condolences
Rest in Peace with the Lord, Dear Cousin. You will be very much missed by all who know you, and your completed life will continue to be an inspiration to us. Love, Jim and OliveAnn
I pray the Love of God enfold Evelyn's Family during their journey through grief. It was a pleasure to work with Evelyn for many years as a Golden Goose Readers volunteer and CCW member. She inspired people and always looked on a brighter side of life.
May you rest in peace my dear cousin,God has a special place for you