James Antonio Racca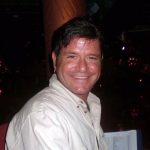 Born in Newark, New Jersey on January 6, 1971.
Departed on February 17, 2018 in Palm Bay, Florida
James Antonio Racca, 47, of Palm Bay, passed away peacefully with his family and friends by his side on Saturday, February 17, 2018.
Jim was born on January 6, 1971 in Newark, New Jersey to Raymond and Annette Racca Sr. Three years later the family moved to Melbourne Florida, where Jim discovered his love for the beach and the water. Jim loved to surf, water ski, and jet ski . He attended Ascension Catholic Church from Kindergarten through the eighth grade, followed by Johnson Junior High and graduated in 1989 from Eau Gallie High school, where he met his loving wife Diana Swiontek Racca.
Jim had a love of music and singing, and a beautiful singing voice. He was the lead singer of the band Low Profile/Signal 22 in the late 80's early 90's, before becoming a karaoke host at Kokomo's after winning a singing competition. In 2013 he fulfilled his dream of visiting Graceland, home of his idol Elvis Presley.
In 1995 Jim began his career as a Correctional Officer at Martin Correction Institution where he later retired in 2017.
Jim married his high school sweetheart Diana Swiontek in 1998 at Ascension Catholic church, followed by a honeymoon cruise in Mexico. They would later take a cruise or vacation every year for their anniversary. They enjoyed singing, cooking and snorkeling together. He was her best friend and she was the love of his life.
Jim enjoyed cruising, eating sushi, watching movies, driving his Ford Mustang and spending quality time with his 2 dogs Bella and Presley. Jim was a very good cook and learned everything he knew from his adoring mother Annette, who had passed in 2015. Her death took a big toll on Jim's heart, as he was very close to her. He enjoyed spending holidays with his wife Diana and her family, becoming very close to her mother.
The support from his many friends and family while in the hospital was wonderfully overwhelming and appreciated.
Jim will be forever in our hearts. His sweet and charismatic personality will be greatly missed by all.
Jim was preceded in death by his mother Annette Racca. He is survived by his loving wife of 19 years Diana Racca of Palm Bay, brother Raymond Racca Jr. (Angela) of Texas, niece Cheyenne Racca of Cocoa, his Aunt Grace Racca of Pennsylvania , father Raymond Racca Sr. of Melbourne, in- laws Stanley and Camille Swiontek of Melbourne, and sister in law Michelle Fincannon of Melbourne.
In lieu of flowers, his wife requests plants.
24 entries.
Love you man! I miss you so much! We will get together at a later date and do some reminiscing.
Diana, I am so very sorry for your loss. Never having met Jim he was still considered family in my eyes. I hear he was a wonderful person.
I'm so sorry to hear the passing of Jim. I had the honor of photographing him while he was in the band low profile. I'm so sorry for the families loss.
This guy had an amazing voice and very sweet disposition. I had known him since 1984. You will be missed!
I am so sorry for your loss Diana .Jim truely loved you so much . he often told me how lucky he was to have such a beautiful caring wife you will meet him again god bless you may jim rip
You were loved by everyone you touched and will be greatly missed.
You were welcomed into heaven with open arms, I am sure of it. You were a sweet and devoted husband. What a great loss for Diana, family and friends . You were a good man Jim. You will be missed.
May his soul rest in peace...we may weep for him but our memories will forever hold a smile. BLESS you Mrs. Racca it was a joy to work with him over 20 years...RIH
I worked with Jim at Martin Correctional. Jim was a great man and will be truly missed. Diane and papa Racca may God lift you up during this difficult time and comfort you. Jim
You left this world far to soon Jim. Fly with the angels & watch over Diana.
Our deepest condolences and prayers to you Diana in the loss of Jim. May God hold you safe in his arms and I know you know that Jim is with you always. Love the Cronk family.
It was nice knowing you and working with you. You'll be missed. RIH..
My heart is so sad with the passing of Jimmy. He was such a sweet young man. My love to Diana and family.
God bless your soul and may you rest In peace forever.
Will surely miss our long conversations on the phone..you will be greatly missed 😔
Jim an Sep were co-workers and also friends. We have many good memories of Jim and Diana. He is Sadly missed. RIP dear friend until we meet again.
Jim was a great man. I met him in the corrections academy. From there we work together for many years. We had many fun times at work. He will greatly be missed.
Jim and I worked together at Martin Correctional Institution. He was a great mentor and friend. He became my brother and I will miss him dearly...God bless you my brother