Joan Wallace Jones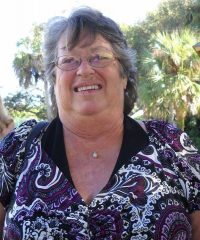 Born in Queens, New York on October 7, 1951.
Departed in Melbourne, Florida on April 11, 2018
Joan Wallace Jones, 66 passed away on Wednesday, April 11, 2018. She was born in Queens, New York and was partner of Wallace Air Conditioning in Indian Harbour Beach. Joan is survived by her husband, Robert L. Jones, daughters, Tina L. Billie, Betty A. Jones, Elizabeth L. Jones; grandchildren, Cierra, Xavier, Trinity, Mya, Joey, Aaliyah; mother, Ann H. Wallace; sister, Linda W. (Gerald) Flood; brothers, Mark Stephens, Michael J. (Rosemarie) Wallace, Patrick J. Wallace; nieces and nephews. She is predeceased by father, Richard F. Wallace, Sr.; brothers, Emmett F. (Noreen) Wallace, Richard F. Wallace, Jr. and sister in law, Chris Stephens. A celebration of Life will be held at a later date. In lieu of flowers donations may be made to Heart Foundation or St. Jude Hospital in Memory of Joan.
"Ginger," a Very "Special" Mom and Grandma
Ginger always gave far more than she ever took.
Ginger under the difficult and trying times of every day showed us all what Love and Faith is, no matter how difficult.
Ginger – ever day carried her children and her grandchildren on her shoulders.
It was my honor when Ginger called me Uncle Sonny, always with a smile.
My tears are real, as is my Love for Ginger, a very special young child and mother, grandmother and wife.
Rest well Ginger, in the arm's of our Lord.
Uncle Sonny, The name the Wallace Family honored me with
10 entries.
Mrs. Joan is my other mother and has been since I was 12 and in 6th grade. I will love and remember you always.
So sorry to hear about your loss.... your mother was a lovely lady..... my love and prayers to the family..... your old mail lady Debbie
Miss you already love you TILL WE SEE YOU AGAIN Watch over us .....
Enjoy the beautiful Paradise in Heaven. I'm gonna miss you on Earth Aunt Joan, We know your work was done when God called you home and forever pain free. It won't be the same without you at the family reunions because as the list got smaller you was the precious piece that kept the reunion going every year, but now who's gonna keep it going? Enjoy your ride with God and tell everyone hello for me, I love you Aunt Joan R.I.H Love always, Kimberly , Susan Canada's Daughter
I love you grandma. I knoe you're in a better place now. Rest easy beautiful angel!
To my wonderful and loving Aunt. I will miss you all the days of my life. You were an amazing example of a woman who I only hope I can turn out to be. May you rest in peace. All my love your niece, Erin
Please accept my deepest condolences for you great loss! God bless all of You especially my good friend Pat Wallace during this sad time. Andrea Mazzone
Sending thoughts and prayers to the family.