Leona Cecelia Orlowski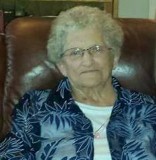 Born in New Castle, PA on July 4, 1926.
Departed in Melbourne, Florida on April 27, 2018
Leona Cecelia Orlowski, 91, passed peacefully on Friday, April 27, 2018 at Holmes Regional Hospital in Melbourne, Florida. She was born in New Castle, Pennsylvania on July 4, 1926 to the late John and Mary Korab Iwanejko. She was married to her beloved Frank John Orlowski for 46 years before his passing on March 27, 1996. Leona was a homemaker and enjoyed cooking and baking. Before moving to Florida, she was well known in New Castle for her cookies and cakes, especially wedding cakes. She enjoyed time spent with her loving family to whom she dedicated her life.
Leona is survived by her sons, Frank G. Orlowski of Palm Bay, Florida and Edward J. Orlowski (Cindy) of Brandon, Florida; grandchildren Kimberly Orlowski, Kelly Orlowski (Fred Vanscoy), Matthew Orlowski (Suzanne Shields) and Jaime Bouton (Regis); two great granddaughters, Madelyn and Olivia Bouton; brother, John Iwanejko (Peg); and sisters, Julia Baker (Richard), Dolly Ray (Joe), Loretta Kendall (Walt) and Ilene Upperman (Art). Preceding her in death are her husband; parents; and brothers, Henry Iwanejko, Edward Iwanejko, and Frank Iwanejko.
A service celebrating her life will be held on Saturday, May 5, at 10:00 a.m., Brownlie-Maxwell Funeral Home, 1010 Palmetto Ave, Melbourne, Florida. Interment will be with her beloved husband, Frank, at Florida National Cemetery, Bushnell, Florida.
5 entries.
Frankie, Eddie and family. So sorry to hear of Aunt Leona's passing. She was a wonderful person. Miss all the old times and all the great meals and sweets. God bless you all. Janet
Frankie, we are so sorry for your loss. We loved Leona and enjoyed the time we had with her. She was one of my favorite hair clients!! I will never forget all her fabulous baked goods. You and your family are in our thoughts and prayers. xoxo
We are deeply saddened by the loss that you and your family have encountered. Our sincere condolences.
Gram I love you with all my heart, you will be terribly missed. I know you are now with pappy and will watch over us. I love you❤❤❤❤
We are sorry to hear of Leona's passing, we love her dearly and she will be greatly missed. We love you all. Michael & Tina Warso