Louise Webster-Jones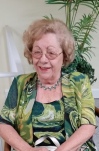 Born in Santiago, Cuba on March 28, 1928.
Departed in Palm Bay, Florida on August 6, 2018
Louise Webster Jones, 90, of Palm Bay passed away on Monday August 6, 2018. She was a retired hairdresser .
Survivors include her son Errol Chin-Loy, daughter Jean Chin-Loy, son-in-law Preston Oglesby, and many loving family and friends. She was predeceased by her husband Ivor Jones.
A memorial service will be held on Friday August 10th at 11am in the Brownlie Maxwell Funeral Chapel.
She is truly loved and will be missed by many, she will never be forgotten.
If desired donations in her name may be made to the Alzheimer's Foundation.
3 entries.
My dearest Tony & Jennie, please accept my condolences, Sunt Chita will be missed dearly. I know this is a very sad time for You both but please feel free to call on me for help and comfort when you are feeling down. Mom (Mary) and I hope to come to Florida soon and hope to see you both then. Until then please take care if yourself. Sincerely Annette Terrelonge.
Jennie and Tony, please accept my deepest sympathy in the loss of your dear mother and my most precious aunt Chita, May her soul Rest In Peace. Best Regards Mother Mary
Errol and family, Our sincerest condolences to you and family in the passing of your dear mother. I know you loved her very much and know you have many many happy memories to cherish. Blessings to you and family.