Marvin J. "Pete" Marshall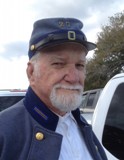 Born in Malabar, Florida on December 17, 1932.
Departed in Melbourne, Florida on May 29, 2018
Marvin J. "Pete" Marshall, 85, was born in Malabar, Florida and passed away on Tuesday, May 29, 2018 in Melbourne, Florida. He retired from KSC. Pete is survived by his wife of 62 years, Jackie; son, Joe (Deb) Marshall; daughter, Terri (Roy) Milton; 7 grandchildren, 8 great-grandchildren. A Celebration of Life will be held on Sunday, June 3, 2018 at 2:00pm at Lifepoint Church. Donations may be made to Hospice of Health First, 1131 W. New Haven Ave., Suite 102, West Melbourne, Florida 32904.
3 entries.
Our thoughts and prayers are with you. May God bless you and your family.
Although I didn't know Pete, I know his wife Jackie and son Joe. In signing the guestbook for Jimmie Marshall I saw the entry for Pete. These are very difficult times for the Marshall Family. Barbara and I will remember all of you in our prayers.
Pete Marshall was a good man. He was always there with Jackie to help when my family lost a loved one. I have no doubt he is with our Lord and Savior today. God's blessings and comfort on Jackie, Joe, Terri and family. Love you