Mildred H Ritter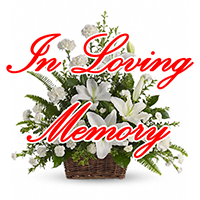 Born in Salem South Carolina on December 9, 1934.
Departed in Melbourne, Florida on June 4, 2018
Mildred H Ritter passed away on Monday June 4, 2018 at her home. She was a native of South Carolina and a housewife.
Survivors include her husband Henry sons Michael, Gregory and Jason daughter Carol Randall, grandchildren Zachary, Eric, Lucas, Bryce, Emily and Amanda.
Services will be on Saturday June 9th at 11am in the Brownlie – Maxwell Funeral Chapel.
3 entries.
We were neighbors when I was very young. I remember her beautiful smile like it was yesterday. So sorry for your loss to all the family.
Sorry for your loss Jason and Greg. You both are a true tribute of respect and love shown in hands-on caring for your parents, sacrificing your own time and comforts to make sure your parents had top notch care in their declining years. Blessings to both of you.
So sorry for your loss! My heart breaks with yours. I'm so thankful that I got to see Aunt Mildred Memorial Day weekend. Just know that I love you all and will be praying for peace & comfort. Love you guys so much!!!!