Dorothy "Dottie" Woodbury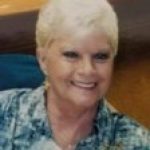 Born in Cobb Co, GA November 20, 1939.
Departed on February 24, 2018 in Palm Bay, Florida
Dorothy "Dottie" Woodbury, 78 passed away on Saturday, February 24, 2018. Dorothy was an active Member of Holy Name of Jesus Catholic Church and active with the ladies organizations of AZAN Shrine. She was an expert gardener and a loving selfless friend. Dottie is survived by her husband of 33 years, Ted Woodbury; daughter, Ursla Anestos; 3 stepchildren, 9 grandchildren; 3 great-grandchildren; 1 brother and multiple nieces and nephews. A celebration of Life will be held on Saturday, March 10, 2018 at 2 pm at The AZAN Shrine Temple in Melbourne. In lieu of flowers donations may be made to Shriners Children's Hospital, American Cancer Society or Hope No Kill Shelter. Brownliemawell.com
4 entries.
Dottie was a wonderful friend for many years. Even thought we lived in different states our friendship stayed heartfelt. She was the most thoughtful and loving of anyone I have ever known
Thank you for being the best Mom and my best friend . I am going to miss your beautiful smile, warm hugs, and even "the look"(when I did or said something wrong). I will miss our talks and shopping trips. I miss everything, I love you Mom, forever. 💖
With deepest sympathy to the entire family. Dottie will truly be missed.
What a beautiful woman, Mrs. Woodbury was. I am very sorry to read of your loss. With her accomplishments, her love and joys, she was an amazing woman! I won't pretend to know what you're going through, but what has helped me deal with the loss of those I love, is turning to the Scriptures, something that has been a real source of comfort. One Scripture that gives me hope is, John 11:25, which says, "Jesus said to her: "I am the resurrection and the life. The one who exercises faith in me, even though he dies, will come to life." I hope that this verse will also comfort you and, I hope you and your family can get through this difficult time. Please accept my condolences for the loss of your beloved wife, mother, grandma and friend. Sincerely, Meryl, jw.org - healingwordsforu@gmail.com