Brownlie – Maxwell 1930 Photo

Brownlie – Maxwell Funeral Home started in the late 1890's in conjunction with a hardware store on New Haven Ave. in downtown Melbourne. In 1915 V. C. Brownlie and his wife "Bobby" moved to Melbourne from Eastern Kentucky and took over the operation, eventually moving it to the present location in 1934. Conger Brownlie and Bert Maxwell joined the firm in the late 40's after returning from military service in the US Navy in WW II. They worked hard to expand and improve the business throughout the "Space Race" age of the 50's and 60's. Their sons, Mike

Brownlie and Greg Maxwell, assumed management in the mid 70's to become the third generation of this family to be in the funeral business in Melbourne, and another generation is coming along.

In 1978 we added the first crematory in Melbourne to our facilities and in 1991 expanded and remodeled the older building. At that time we were nominated for awards by the Brevard Beautification Committee for our newly expanded presence on US 1 just one block north of Strawbridge Ave.


Brownlie – Maxwell 1950 Photo

Brownlie – Maxwell 2000 Photo

Using only our family's history here from 1915 we are the 17th oldest business in Central Florida according to the Orlando Business Journal and in Melbourne our longevity is only surpassed by one other private business that we know.

We are firmly dedicated to the South Brevard Community and very involved in it. Associations include Rotary, Kiwanis, Shrine, Easter Seals, Downtown Melbourne Merchants Association, Health First Holmes Regional Development Council and Hospice, Chamber of Commerce, and the Florida and National Funeral Directors Association.

Our dedication to the families we serve at a time of emotional crisis has made us one of the largest and most respected funeral homes in the state of Florida. We are a local family owned funeral home without any ties to large conglomerat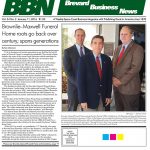 Brownlie-Maxwell Funeral Home roots go back over century; spans generations. Article from January 11, 2016 in the Brevard Business News.