Benjamin J. Parvin
Benjamin J. Parvin, 85, of Palm Bay, FL passed away on Wednesday July 29, 2020 He was born in Reading, PA, moved here in 1958, a lifelong Methodist and retired from Brevard County Mosquito Control. He was also a member of Melbourne Masonic Lodge #143 and Melbourne Order of Eastern Star #106.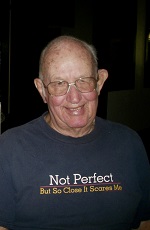 Survivors include his daughters Debbie Spikes, Vikki Bautz and Stacy Johnson, a son Donny Parvin, grandchildren and great grandchildren, a brother, Robert Parvin. He was predeceased by his wife, Nancy and sons, Ben Parvin and Skip Parvin. Service s will be at a later date. Anyone wishing to make an expression of sympathy is asked to consider the Leukemia Society of America.

5 entries.
We are going to miss seeing you on Sunday mornings at church. It was so nice getting to know you over the years and we enjoyed all the stories you would share about your family. You were so proud of all your children and grandchildren. There will always be a void in our hearts when we walk into the 8:30 service. Remember to 'save us a seat' in heaven.
Ben miss you, may you rest in peace my prayers will always be with you. A great friend and bowler. love Virginia
Ben will be truly missed. He was a good neighbor and a great friend. We enjoyed seeing him walk Dutchess and stopping for a chat. He was a pleasure to know. We love you, Ben.
It is with a heavy heart that I say goodbye to Mr. Ben. He was my dearest friend and great lunch buddy. When I moved in across the street from him, he took me under his wing and welcomed me. We became lunch buddies. I had to fight with him to take turns paying for lunch. Many times during our lunches he would talk about his kids. I could feel the love he had for each and everyone of them. Then we would get in his car and he showed me all of Palm Bay. He will forever be in my heart and will miss him always. God bless you Mr. Ben you were one of a kind.
Ben will be missed by many. He was a generous soul, taking other elderly people, even younger than himself, for errands. When I first met him, I was pleasantly surprised by his type of humor. Once in a while, I would spot his bright blue car zipping around town. He had a penchant for changing vehicles, like playing musical chairs.