Clifford W. Ardinger, Sr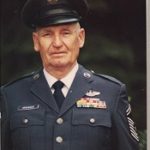 Born on September 11, 1931 in Pittsburgh, Pennsylvania.
Departed on October 26, 2020 in Melbourne, Florida
Clifford W. Ardinger, Sr., 89, passed away on October 26 after a long illness. He is survived by his wife of 63 years, Estelle (Nancy) Ardinger, five children and spouses, Frances (Mike) Chatelier, Barbara (Jeff) Cato, Clifford (Lynn) Ardinger II., Robert (Todd Humphrey) Ardinger, Mark (Wendy) Ardinger, 12 grandchildren, and 21 great grandchildren. He served 2 years in the US Army and subsequently 34 years in the USAF Reserves. He attained the rank of Chief Master Sergeant and worked as a Load Master on several aircraft including the C130. He is our patriotic hero! His brothers, Al and Fran, and his mother, Toots, predeceased him, and he leaves behind his beloved sister Marie Rossi. Clifford was also loved by his dog Chief. He always had a passion for horses, and he performed in numerous rodeos as a young man. Viewing will be held at 10 am followed by a service at 11 am on Nov. 3 at Holy Trinity Episcopal Church, 50 Strawbridge Ave., in Melbourne. He will receive full military honors at Cape Canaveral National Cemetery. Holy Trinity requires masks to be worn.
28 entries.
Hi Daddy 😇 In 2 weeks , You will be gone only 9 Months but it feels like Forever...I Miss You So Much...I Pray that You are Looking Down at Us and I Hope that You are Proud...You Were So Loved by So Many but Not as Much as Your Family Loved You ❤ Love You Daddy
Cliff and I had some really good times at the Fulton Theater and our visits to the farm where we rode horses and enjoyed our younger years in old Montor.
In the short time I knew this man he was such a wonderful impact in my life. God truely blessed my by putting this family in my path. I miss you dearly Mr. Clif and your family you are very loved. Estelle and Robert I miss seeing you both. Much love from me so sorry for your lose.
My brothers and sister and I were lucky to have some terrific uncles and aunts growing up, who didn't talk down to us as if we were little kids. They talked to us as adults. My memories of Uncle Cliff were memories of fun and adventure. I remember his wedding to Aunt Nancy, and how at night the snow was coming down so hard and the streets were so slippery, guys all dressed up had to help push their wedding car on an icy uphill street, Aunt Nancy in her wedding gown in the snow looked like a dreamy princess with a wonderful laugh and smile. Later, I remember riding in his boat ("The Nancy") with my dad on a Pittsburgh river. I remember one time visiting and watching his TV that wasn't working right, and he decided to take it all apart and repair it himself right there, while everyone else drank beer and talked through the repair. It was an entertaining get together. Pictures in our family photo archives showed him riding horses, and being someplace exotic while in the service. He was a loving man and showed us by living how to live a good life to the end. Though we have not seen you in a few years, Uncle Cliff, Rosemary and I thank you .and we'll miss having you in this world. We send love to Aunt Nancy, and to Barb, Frannie, Cliff, and Robert and their families.
Our prayers and sympathy goes out to the Ardinger family (Nancy, Bobby, Fran, Mark etc.). Cliff was such a nice, helpful, caring man. A very close neighbor of my parents especially including Nancy (my Mom's best friend, whom helped my Mom out Alot). (my Mom Judy Kelley died in 2012). Love Cheryl and Tom Kleving
Even though I've only seen you a few times in the past dozen years, Uncle Cliff, you occupy my earliest memories. Eleven years older than I, you taught me how to load, aim, and shoot a 22 rifle across Montour Creek when I was only 4 years old. You taught me how to saute mushrooms and onions in butter in a cast-iron skillet at 7 years old. You gave me two machetes you brought back from Panama that I treasured (and used) for years afterward. Decades later, when I first saw Kevin Kostner's character of Jake in the movie Silverado, all those early memories came back. I told people "He's just like my Uncle Cliff; he can ride a horse, draw, shoot, and do all those stunts." You were always my cheerful, smiling, generous, action hero. I miss you and expect to see you soon.
Nancy and family - so sorry to hear of Cliff's passing. May God Bless you with Peace and Comfort. A neighbor and friend❤️
I have pleasant memories of uncle cliff dating back to childhood. He was always smiling and we enjoyed his frequent visits. Before he left he would take all of us kids to the store and buy us ice cream and popsicles. All of our friends knew our wonderful uncle cliff. Rest in peace.
My Darling youngest and tallest brother.THANK YOU FOR ALL THE LOVE AND MEMORIES . You always made me feel so special. I will miss that Hi Sis greeting when I called you and the many goodbys back and forth when the called ended. So till we meet again I LOVE YOU MORE. Bootsie
I love you papap love zoey rose and jack Morris chomor. Always in my heart and mind forever and always
Rest well, Uncle Cliff!! I know my Pap will be happy to see you and will greet you with one of those classic Ardinger smiles and a twinkle in the eye. We will keep watch over Aunt Boots and Aunt Nancy here! <3
With our deepest sympathies, we are sorry for your loss.
Our deepest sympathies. You are in our thoughts and prayers.
Love you and miss you Uncle Cliff. We will always remember the good times at Vacationland in PA. We loved sitting around the campfire and listening to your stories. Aunt Nin, our thoughts and prayers are with you and your family. Love you all.
So Sorry for your Loss you are in ourThoughts and Prayers!
So sad to learn of Cliff's passing. It hurts to lose someone you've known forever. I'm going to miss him waving and hollaring across the street at me, "Hello, Annie!". Nancy, my thoughts, love, and prayers are with you and the family as you all mourn his loss.
Uncle Cliff has always held a special place in my heart. From the time I was little and he would stop by the house and buy everyone a popsicle to the times we would ride horses on Papa Vince's farm in Imperial, PA he was always fun to be with. He inspired me to join the USAF and it was always the highlight of my life too. He was a happy guy that regaled us with story after story from his travels around the world. He will surely be missed by the family and he will most certainly be missed by me. His nephew, Den Ardinger, Colonel, USAF (Ret)
Thank you for being part of our lives for so many years n sharing your family with us you were a blessing in our lives will miss you n Thank You for you service grandpa till we meet again 💔❤️💖