Curtis L. Robinson
Born in Loring Air Force Base, Maine on June 22, 1978.
Departed on March 5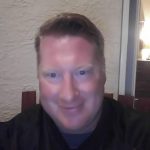 , 2018 in Melbourne, Florida
Curtis L. Robinson, 39, of Melbourne passed away on Monday, March 5, 2018. He was raised in Colorado and Retired as a US Navy First Class Petty Officer after serving for 16 years as a Fire Controlman and subsequently worked as a Software Developer. He moved to Brevard Co. in 2016 from Hampton Roads, VA, loved riding his motorcycle and spending time with his family, his son James was the light of his life.
Survivors include his wife Jenny, son James, parents Mark and Joan, brother Greg and sister Holly and nephew, cousins, aunts
and uncles.
A Visitation will be held on March 14th from 4:00pm until 6:00pm with a memorial service at 5:00pm at Brownlie – Maxwell Funeral Home Chapel.