Deidra Marga Coleman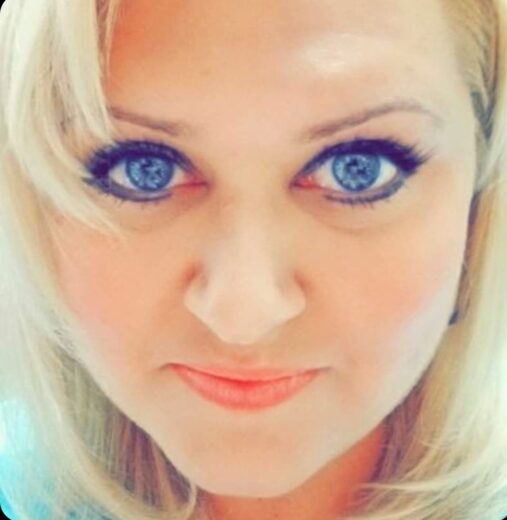 Born December 28, 1972 in Washington, DC
Departed September 5, 2023 in Melbourne, Florida
Deidra Marga Coleman, age 50 of Melbourne, Florida, loving wife, mother, and Catholic, went to our Lord on September 5, 2023. Deidra was born in Washington D.C. in December 1972. She was a loving wife, mother, daughter, sister, business owner who loved her family, friends, and pets.
She graduated from Melbourne High School in 1991. She married her high school sweetheart Robert Coleman on May 3, 1997 at Saint Sebastian Catholic Church in Sebastian, Florida. She completed an Associate of Arts from Brevard Community College. Deidra was a co-owner of All Florida Water and Coffee located in Melbourne, Florida.
Deidra was a very empathetic loving woman. Everyone who knew Deidra found a special place in their heart for her. No matter how much pain she was in, she wouldn't show it. Her beautiful eyes and loving smile will remain ingrained in our minds. She was taken from us too soon. May she be not afraid and in the protective arms of the angels and our Lord. May she be surrounded by loved ones who preceded her to heaven. Deidra's wings were ready, our hearts were not.
She was preceded in death by her mother Anita Arbic Bunton. She is survived by her father Robert A. Bunton; loving husband of 26 years Robert L. Coleman and her two siblings and one amazing friend/sister/daughter*, Alicia A. Mann (husband Larry and niece Natalie Click); Crissy Bendix (husband Lee) and Brenda Boren Corliss* (husband Dave). In addition she leaves three children Colton, Olivia, and Leonah.
Special mention: nephew PJ, Coleman, related by parents (brother-in-law and sister-in-law) Joey and Diane Helsel Coleman. Father-in-law and mother-in-law, Joe, and Diane Coleman. Sister-in-law, Pam Coleman(husband Paul).
Deidra was loved by so many through high school, college, special, running races, lodges, outings, and through work, that that are too many to mention. Please take the opportunity to login below where it says, "Sign the Guestbook" and mention how you know Deidra and who you are so that we may have a legacy of those loved ones for Deidra.
Services will be held on September 23, 2023 at 3:00 pm, at Brownlie Maxwell Funeral Home, 1010 E. Palmetto Ave., Melbourne, Florida 32901. No reception afterwards. A Celebration of Life is being planned.
15 entries.
Diedra was only about a year of my life and through her sister, but the impact and impression she made on my life was a Blessed one! No words can express the feelings I have knowing she has gobe to Heaven! Prayers to family and friends!
My thoughts and prayers are with you Rob and your family. Deidra was such a wonderful best friend and I will truly miss her until we meet again. I was so blessed to have known her for the past 42 years. She was so beautiful and kindhearted and was always the kind of friend a person could rely on to cheer you up or cheer you on in whatever you were going through. She was the most spectacular mom, one that I truly admired and I know she was a very special wife and daughter! I will forever hold a special place in my heart for my best friend. ❤️
I was blessed with Deidra's friendship when we first met in 9th grade at Central Junior High School. She will remain in the hearts of everyone who loved her, and were blessed to have known her. She was and is a beautiful soul, a true child of God, and wonderful friend. I regret not spending physical time with her these last years, but will cherish the childhood, through young adulthood memories we made, and deep, thoughtful conversations we've held throughout her battle. She was a true inspiration, pure at heart, selfless and brave warrior who brought comfort to me in recent years, despite her own struggles and fears. You are forever loved and deeply missed my dear friend, I pray for comfort and peace for all your loved in mourning.
Rob, I am so sorry for your and your children's loss. Deidra will always hold a special place in my heart. She was so much a part of mine and my daughter's lives from elementary school all the way through high school. As an adult I saw her less frequently but enough to know that she was still wonderful, kind and always smiling. I will miss her dearly.
My thoughts and prayers are with Deidra and Robert's family. May you find comfort in her beautiful memories. Deidra's beautiful smile, the light in her eyes, and her laughter is what I'll always hold near and dear to my heart. We are so blessed to have crossed paths. God bless and rest in peace my friend. LOVE you❣️❤️🙏✝️🙏❤️
Beautiful Deidre...there is only one word that describes you ......LOVE ...
I'll never forget the 1st time I met you two lovebirds! I was a Teen visiting my sister Jesse's house on vacation from PA. You have always been such a light, From that 1st day I met you. Deidra was so beautiful and funny, I always enjoyed just sitting and chatting with her in a room full of people. So easy and comfortable. Deidra will be so missed, she will forever be with her friends and especially her children and husband, watching over all of us. She's a guardian angel now! ❤️
Deidra, you had the biggest smile which always lit up a room. You were such a sweet and kind person. My heart breaks for you and your family. Rest in peace sweet Angel.
She was a sweetheart. God bless you Deidra.
Oh Deidra. I hate that you left us this soon like this. You are probably the most determined human I've met. I love you sister.
I am so sorry for your loss. She was such a beautiful person. Ox
Our thoughts and prayers are with you, Rob, and with the kids during this difficult time. I already miss our "snap streaks" and the fun times we had when I would visit Diane, Joe and PJ. Deirdra was such a sweetheart. My heart is broken. I'll be thinking of you all on the 23rd when you celebrate her life and love. Please know that we are thinking of you all. Love, Janet, Johnny, Ben and Amanda (Diane's sister and family)
Deidra was truly a light in this world. I met her when I attended Mel High, briefly, for part of the 9th grade. I stayed connected with her thru our mutual friendship, with Chris, that spanned until she passed. She never had a negative word to say and always had a big, beautiful and welcoming smile. She made everyone feel important and heard and those qualities are so very rare. She was such a warrior and I never heard her complain about her illness. I am praying for her family and loved ones during this most difficult time.
Deidra was a very special lady. I loved being a homeroom mother with her. Our evenings waiting for the boys to get out if school. She always had a smile on her face. I love all if you guys.