Donald Russell Culp
Donald Russell Culp was born on March 13, 1980 in Melbourne, Florida. He passed away on February 2, 2021 at Holmes Regional Medical Center in Melbourne.
Donny grew up in Indialantic where he attended Holy Name of Jesus Catholic School, Hoover Junior High, and Melbourne High School. After high school Donny went on to attain his Associates Degree from Brevard Community College, and his Bachelor's Degree from the University of Central Florida in 2015. After college he worked various internships to learn the film business. In May of 2018 he started his own film company, A Raining 3's Productions. He was the Director and Producer and began to work on making documentaries. He had two documentaries in the works that he was planning to release this year. Most recently he had become the Southeast Representative for the Documentary Producers Alliance.
Donny was passionate about many things in his life, the most prevalent being film and sports. He loved watching movies, new and old, and keeping up with all of the Awards shows. His film knowledge was a close second to his keen knowledge of all things sports. He enjoyed golf, baseball, basketball, and football (college and pro). Even more than his love for film and sports was the love he had for his first-born nephew, Brennan Bailey.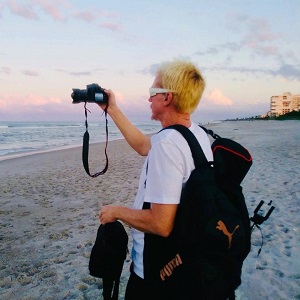 Donny is survived by his mother and father, Pam and Richard Culp, brother Richard Culp, Jr., sister-in-law Stephanie Culp, nephews Brennan Bailey, Blaine Cox, and Micah Culp, niece Madalyn Culp, and many other family members who love and miss him greatly.

13 entries.
Donny was my "person". I will love him and miss him forever.
So young and full of life, Donny accomplished a lot in his short time with us. He had the greatest smile and touched many lives. He will be missed by many. Prayers for all the family and close friends, especially for my Uncle Dick, Aunt Pam and cousin Ricky who will all undoubtedly miss him the most.
Im so sorry for your loss, cant imagine what your going through, I've tried and it was to painful to go there. I remember Donny had the biggest smile ans always seemed happy. Even tho haven't seen him in over 20 years he is will be always family just like Ricky, Shawn, and Daniel where we all kinda grew up together when mom brought us over on weekends. Pam, Uncle Dick, and Ricky you are in my prayers and thoughts.
Donny was my cousin, and although we lived a few hundred miles apart, I heard many good things about him. I'm so sorry to hear about his passing.
We had such a great time as kids growing up. We will miss you. You lived life fully.
Rest Easy Donny, our thoughts and prayers are with your family.
I am so sad to hear this news - thoughts and prayers to his family !
Donny is gone, but not forgotten. He was one of my very best friends. We all loved Donny and he loved us back more. He was my favorite person to watch a movie with or recap on one from afar. I'm going to miss his smile, laugh, wit and unique sense of humor. It's a tragic loss. He was great to me and my kids. Donny was the friend I could always count on.  Our hearts go out to the entire Culp Family during this difficult time. RIP my friend, you were loved and are missed...
I will miss seeing post from Donny. He was our family friend. I was so happy for Donny's accomplishments. He had many. Love to Donny's family. Kim Callahan
You are greatly missed Donnie, We all love you and know that you are in the loving arms of God.
I will truly miss you Donny. I think about you daily. May you Rest In Peace.
I miss you little brother. I love you