Gerald "Jerry" Lee Caplinger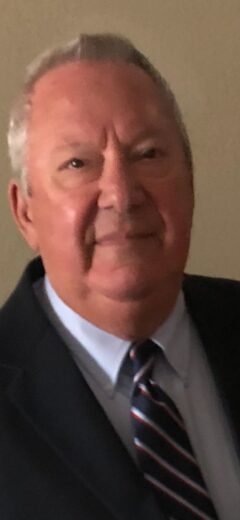 Born on May 17, 1938 in Fredericksburg, Pennsylvania
Departed April 25, 2023 in Rockledge, Florida
Gerald "Jerry" Lee Caplinger, 84, of Rockledge, Florida, beloved husband, father, and grandfather, went to be with the Lord on Tuesday, April 25, 2023. He passed at his memory care facility with his wife, daughter, and son-in-law by his side.
Jerry is survived by his wife, Joan (Straub); his two daughters Jody (Steve) Rhoads and Julie (Art) McPherson, his two sons Jon (Tracy) Caplinger and James Caplinger; his four grandchildren Pierce Caplinger, Paige (Caplinger) McCoy, Amanda Rhoads, and Lindsey Rhoads; his sister Lulabelle (Caplinger) Ziegler, and his many adored family members and friends.
Jerry was born to Lee and Martha (Sutherly) Caplinger on May 17, 1938, at their farm in Fredericksburg, Pennsylvania. He was the youngest of eight children and the only boy. He was well taken care of by all of his older sisters. While living on the farm, he raised several Palomino horses and showed them with one of his favorite brothers-in-law.
He graduated from Bethel High School, Bethel, Pennsylvania in 1956. After graduation and working for a few small local businesses, Jerry enrolled in the Air National Guard which he served in for eight years. While doing his service, he also worked for Household Finance in Lebanon, Pennsylvania. During a revival service at Jonestown Bible Church in Jonestown, Pennsylvania, Jerry had his eye on a cute choir member named Joan. In September of 1962 the two married and were married for over 60 years.
Upon several career changes, Jerry found his love in selling cars. From selling Mercedes, Toyotas, Chevrolets, and everything in between, he got to do what he did best, help people. With his love of cars, that lead Jerry to several full automotive restorations of MGAs. Away from his enjoyment of cars, Jerry had a passion for woodworking. He made many things over his lifetime including a bedroom set for his sweetheart. The furniture was made from trees that were harvested from their property in Pennsylvania. When looking for a retirement home in Florida, one requirement for the home was to have ceilings tall enough to accommodate the handmade bedroom furniture which they found in Rockledge, Florida in 2005.
Jerry always loved to sing, he was a bass, and loved his Southern Gospel music. One of his favorite gospel groups was the Cathedrals. During each of the Cathedral concerts that Jerry would attend, they always sang his favorite hymn, Oh What a Savior.
A private Celebration of Life will be held to honor Jerry's memory. In lieu of flowers, donations may be made in Jerry's honor to help Alzheimer's Disease Research. Donations may be mailed to Bright Focus Foundation, 22512 Gateway Center Drive, Clarksburg, Maryland, 20871; telephone (800) 437-2423 or visit:
2 entries.
Eula Harrison was one of my Girls Auxiliary leaders back in the 50's and early 60's. She was supportive in many ways. I cherish the memories from those times, and also from the present. When we returned to Florida a few years ago, she was always pleasant and friendly when she greeted me at church. I am grateful to God for her long life and love for His work.
Eula's great sense of humor and smile always welcomed my friends and me. Jim, her son, and I were the closest of friends for over 50 years until he passed in August 2022. I will remember them both for their love and fun times. I'm sure they are gleefully laughing together again.