Gordon William Rousseau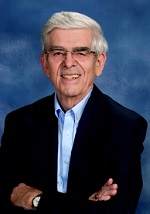 Born on January 21, 1935 in Dover, New Hampshire.
Departed on August 1, 2020 in Melbourne Beach, Florida
Gordon William Rousseau, 85, of Melbourne Beach, FL, passed on to be with our Lord on August 1, 2020. He was born in Dover, NH on January 21, 1935.
Gordon was a devout Catholic. At the age of 12, he left home to attend St. Joseph's Oblate High School and Seminary in Bucksport, ME. He spent his first two years of college at the Oblate College and Seminary in Bar Harbor, ME and then went onto the Oblate Father's Novitiate in Colebrook, NH where he received a Bachelor of Arts Degree in Philosophy. Post-graduate, he attended the Oblate Scholasticate in Natick, MA.
In 1958, Gordon entered the United States Coast Guard through the Officer Candidate School located at the U.S.C.G. Academy in New London, CT. He earned his commission as a Lieutenant Junior Grade officer and began his active duty service in New York City. Gordon completed his service as a Commander in the U.S. Coast Guard Reserve from which he retired after 20 years of service. Throughout his life, he remained steadfast in his loyalty and admiration for the U.S. Coast Guard.
Gordon married his wife, Pauline, of 60 wonderful years on November 12, 1960. In 1962, they relocated from NYC to the Washington, DC area to raise their growing family. In 2002, they became snowbirds and for the past 18 years, Gordon and Pauline have traveled between their homes, family and friends in Annapolis, MD and Melbourne Beach, FL.
After many years working for the U.S. Department of Transportation as an expert in hazardous materials regulations, Gordon entered into the private sector where he ultimately founded and presided over his consulting firm, HMT Associates in Washington, DC. He also served as the Executive Director of RIBCA, held a key role at the Interstate Commerce Commission and was a principal contributing author to the Journal of HAZMAT Transportation when he retired at age 65 in 2000.
Throughout his life, Gordon always enjoyed staying active. While attending college, he played basketball, hockey, baseball and volleyball. He later became passionate about playing tennis and spent many competitive years on the tennis court. As a sports enthusiast and Washington DC area resident, he followed the Washington Capitals, Nationals and Redskins closely. While raising his son, he enjoyed spending many weekends with him fishing and canoeing. He was a boating enthusiast and proudly accomplished his dream of owning his own boat, a 26 foot Regal Cruiser on which he and his family explored the waters of the Chesapeake Bay area for decades. Gordon was an avid reader mixing his reading interests between novels and history, especially the US Presidents, as well as politics. He enjoyed live theatre, symphonies, and movies of which he attended often with his family. He also enjoyed birdwatching as a hobby, especially waterfowl.
Gordon was a loving and devoted husband, father, grandfather, and great grandfather. He lived his life as a great example of humility and gratitude and touched many lives during his journey here. He will be truly missed and forever loved.
He is survived by his wife, Pauline (Durette), his children Paul (Lynette), Denise and Anne (Bruce), his grandchildren, Nicole (George), Jaclyn, Sarah, Danielle, and Lauren, and his great grandson, Oliver.
He was predeceased by his parents, William and Leona Rousseau and his brother, William and sister, Claire.
In lieu of flowers, memorial donations may be directed to his close friend and fellow seminarian (and Pauline's brother) who introduced Pauline and Gordon to each other, Padre Roberto Durette to support his missionary work in Bolivia. Make checks payable to: Missionary Oblates of Mary Immaculate and mail them to: Bill Magrath, Missionary Oblates of Mary Immaculate, 9480 N. DeMazenod Dr, Belleville IL 62223-7787
A memorial service will be scheduled in the near future.

4 entries.
Gordon was a WONDERFUL person and GREAT competitor on the tennis court. He was Very thoughtful about current events, politics, as well as economics. He LOVED his family and was Very Proud of his wife, Pauline, and each child and grandchild. I always thought he was more of a sailor than powerboater in personality, but he did not want to be subject to the winds when ready to go out onto the Bay. Gordon was a Terrific guy and is dearly missed. We must console ourselves with warm memories.
Gordon had an amazing life and leaves behind a great family. His family is his testament. May God rest his soul and let eternal light shine upon him.
Dear Pauline, Paul, Denise, and Anne! Please know that you are in our thoughts and prayers during this difficult time. Hopefully you will find solace in the many fond memories you have of Gordon as a loving and supportive husband, father, and grandfather. He certainly will be greatly missed by all of you and by us as well who had the good fortune to get to know. We send you all our love and best wishes! Phil and Anne
Be still and let the memories surround you. Gordon was an extraordinary man loved by his entire family and friends. He will be forever in our hearts and be missed by everyone.