Jackson Vaughn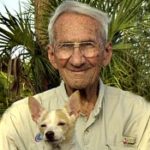 Born on June 11, 1914 in Vienna, Georgia
Departed in Melbourne, Florida on March 7, 2020
Visitation Friday, March 13, 2020 5:00 pm until 8:00 pm
at Brownlie-Maxwell Chapel
Service Saturday, March 14, 2020 at 11:00 am
at First United Methodist Church in Melbourne, FL
WJ "Jackson" Vaughn died Saturday, March 7, 2020 at the age of 105. Jackson was born on the Jackson family farm on June 11, 1914 in Vienna, Georgia to Wm. "Glover" Vaughn and Alma "Pearl" Jackson. Dad liked to tell everyone that if they traveled I-75 in central Georgia that they had been to his birthplace because I-75 bisects the Jackson family farm and runs almost right over the place he was born. He was proud that the Jackson family farm has been continuously operated by the Jacksons for over 200 years.
Dad moved to Orlando with his parents and sister, Helen, in 1923, and then to Melbourne in 1924 where he resided for the rest of his life. Jackson's father started practicing law in downtown Melbourne in 1924, and Jackson joined his father in the practice after graduating from the University of Florida law school in 1939. The Vaughn law office continues to operate in downtown Melbourne. Prior to his passing, Dad was the oldest active lawyer in Florida, was interviewed by the Florida Bar, with an article about him appearing in the Florida Bar News in 2019.
Dad served in the U.S. Navy during World War II from January, 1942 to January, 1946. He served in both the Atlantic and Pacific theaters, retiring as lieutenant. After returning from the war, he was introduced to the love of his life, Elaine Waring, at a Kiwanis picnic. They were married just a few months later on October 17, 1946. They remained married until Elaine's death on October 16, 2011, a few hours short of their 65th wedding anniversary. Jackson is survived by his children, Lane and Elise, and his daughter-in-law Vicci. His children, Jack, Curt, Louis and Cindy, and his grandson, Trevor, predeceased him. He is survived by six grandchildren and three great-grandchildren.
Jackson was the longest term member of the Melbourne Kiwanis Club, a club his father helped establish. He was also a member of First United Methodist Church of Melbourne for over 95 years, and was the oldest surviving graduate of Melbourne High School.
Jackson and his father acted as city attorney for the City of Melbourne for nearly forty years until the merger of Melbourne and Eau Gallie in 1969. During the time Jackson was city attorney, he was instrumental in the expansion of airport lands for the Melbourne Airport, getting commercial flights to the Airport, and in setting up the Melbourne Airport Authority. He was also key in convincing most property owners to donate right of way for the construction of A1A in the south beaches to Sebastian Inlet.
Jackson was an avid Florida Gators fan. No one was more excited to see the Gator football team win a national championship in football in 1996, especially with the victory being over Florida State. At 94 years of age, he was able to attend in person the Gators' third national championship over Oklahoma in Miami. He also attended many Gator basketball games, including NCAA Tournament games, with Elise, which continued well past his 100th birthday. On the other end of the athletics spectrum, he claimed he likely was the only person left alive who saw Stetson beat Florida in football.
Some of Jackson's favorite times were at the Melbourne Hunt Club on Kempfer's Ranch, where he was able to spend time with family and friends. He also loved to "look at the stars" as he was a celestial navigator in Navy, and often lamented that you could not see the stars anymore because of the artificial lights.
Jackson and Elaine opened their home to all of their children's friends, many of whom considered themselves to be "adopted" children of Jackson and Elaine. Some of the best times for both their children and their "adopted" children were spent on Jackson's boat – "the Little Star." The trips to the Bahamas were infamous and many people to this day say those trips were some of the best times of their lives.
Special thanks to the Space Coast Honor Flight for the amazing experience they provided Jackson for his 100th birthday. The trip was one of Jackson's greatest experiences, and he always looked forward to the monthly luncheons. Jackson's "extended family" increased greatly again the last few years thanks to the love and kindness he received from the members of American Legion Post 81 in Melbourne where he and Elise spent a lot of time.
Donations may be made to the Melbourne Kiwanis Club, First Methodist Church of Melbourne, Space Coast Honor Flight or American Legion Post 81.

21 entries.
Just hearing of your Dad's passing. He was such a nice man who gave my parents the best advice and helped them steer clear of possible pitfalls. Whenever I came to the office with my Dad, Frank Craig, Jackson gave undivided attention and genuinely cared about his clients. He touched many people and helped them in their own life journey. Condolences and best wishes.
It was an honor to know Mr. Vaughn professionally and be a neighbor to he and Mrs. Vaughn for a few years. He was a gentleman and a scholar, as the saying goes, an admirable man. I'm sorry for your loss, may God bless you all and Mr. Vaughn.
A fine man and an admirable uncle.
With deepest sympathy, love and prayers.
I worked in Mr. Vaughn's law office in the late 80's. He was an incredible person. Loved Elaine and his family so very much. A real gentle soul. God Bless you always for your kindness.
So sorry to hear about your family's loss. Y'all are in our thoughts and prayers.
Thanks for being a friend and mentor. You will be missed by many here on earth, but what a reception you must be having up there. "Love your neighbor as yourself, there is no Commandment greater..." Mark 12:31 Thank you for teaching this by example to so many for so many years. Your love of mankind will never be forgotten. Nor will you.
Elise, I feel so fortunate to have had the pleasure of meeting your dad. What an incredible life he had. I'm so very sorry for your loss. I'm glad you had so many wonderful years with him. Sending my love to you and your family.
We will miss you, Uncle Jackson
Eternal Rest, grant unto him, oh Lord, and may your perpetual light shine upon him. May his soul rest in peace
Elise & Lane- We are so blessed to have known such a wonderful individual in your father. He was an extraordinary man, full of life and so passionate about so many things, in particular The FL Gators! We all appreciate his service to our great nation and to the community he served. He will be greatly missed! ❤️
Very sorry to hear about your Dad's passing. May he rest in peace.
A very special light went out with Jackson's passing. I will miss Christmas Eve dinners and birthdays, but I know he has been reunited with his beloved wife. I will miss you Jackson. May God hold you and your family in his loving arms.
jackson was and is always a 'gator'. he will be greatly missed by all gators in brevard county and especially by the Spacecoast Gator Club. i feel extremely blessed to have known him and fortunate to talk with him about his life. GOD loves him and so do I !!
Your dad was family, friend and my boss. Elise, I hope you know how much you mean to me. Love, Cheryl
My sincerest condolences to the family of Jackson Vaughn. A shining light to all who knew and loved him.
I met Jackson in 1980 as the Attorney for the bank I worked for- The old First Federal of Brevard on New Haven for many years. He was a great person , very friendly and knowledgeable! He will be missed by many of us!
Always a Gator! Will so miss seeing him at the Gator watch parties on game day Saturdays with Elise and Jim. Prayers for his family and loved ones.
Thank you for your strength and courage in the face of adversity, your wisdom in times of trouble, your unwavering honesty and integrity, your faith in God and in your fellow man, but, most of all, your love of life and all the good things in it. You are a remarkable, once in a lifetime, Southern Gentleman. Thank you again. And I love you.
The finest gentleman I have had the pleasure of knowing. May God Bless him and his family.