Patricia D. Schoenwolf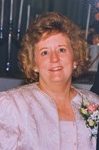 Born on October 20, 1947 in Chattanooga, Tennessee
Departed in Melbourne, Florida on January 15, 2020
Patricia D. Schoenwolf, 72, of Melbourne passed away on Monday January 13, 2020 in Melbourne. She was a retired Health Care Technician, moving to Brevard County in 1986 from England. She was a member of Faith Fellowship and enjoyed reading, crafting, coloring, painting and making jewelry.
Survivors include her husband Steve, daughter Jennifer (Douglas) Duff, son William and granddaughters McKenna and Peyton Duff and 5 sisters Cindy, Kathy, Ava, Kim, and Ronae.
Memorial services will be at a later date in the Faith Fellowship Church. The family requests that donations in her memory go to Faith Fellowship Youth Camp.

8 entries.
So sorry for your loss. Sending hugs and prayers to the family.
It's hard to find words, Steve. I'm so thankful Pat is pain free and no longer in discomfort and I know we will one day be reunited in Heaven. However, my heart is heavy and I miss her . I'm praying for the Lord to provide you, Jennifer, William and the girls with peace and comfort.
Linda and I remember you and Pat from our days at FFC. I'm truly sorry for your loss. I know Pat meant the world to you.
To my dear Cousin Pat, who was very much loved. You will be very sadly missed. R.I.P Pat With very much love from your family in England. Xxxxxxxxxx
My Beautiful Sister Patricia Diane, A devoted Wife,Mother and Sister, that Was Loved So Very,Very much. My heart is broken and I miss You so very much. I know your in Gods arms now, and Free of all your pain. Until we meet again All my Love, Kim & Max
I'm so sorry to hear of Patricia's passing. I know she will be missed. Our thoughts and prayers are with steve and the family.
So sorry for the loss of such a wonderful wife, mom, grandmother, and sister. Remember her laughter!
I will miss Pat until I see her again in heaven. I will remember you fondly forever. My crafty, tough, funny, tender hearted friend, you will be missed. Xoxoxo