Patricia Nichols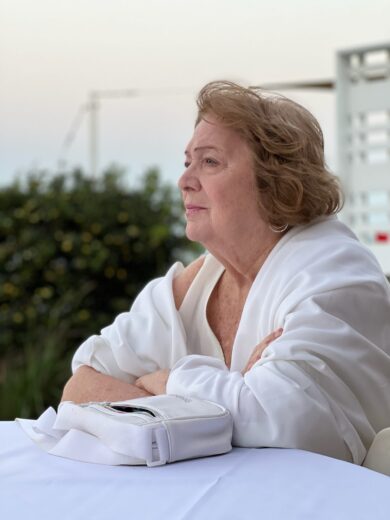 Born on August 24, 1941 in Medford, Massachusetts
Departed January 12, 2023 in Melbourne, Florida
Patricia Nichols, a loving, generous wife, mother, grandmother, sister and friend, left this world on January 12, 2023, at the age of 81 — to explore another — and once again wrap her arms around her beloved son, Matthew Nichols.
Patricia was born on August 24, 1941, in Medford, Massachusetts to Rosemary and John Flynn and was one of five siblings including brothers Jack and Dennis and sisters Pam and Donna.
As an accomplished singer, after graduating high school, she set off for adventure with her first husband, Stan Leavitt and they performed at venues around the country as the music duo, Patti and Stan. Eventually they welcomed a daughter, Jennifer, and the family settled in Framingham, Massachusetts.
After her first marriage ended — she met and married the love of her life, James Nichols — and Jennifer was even invited along on the honeymoon. The family moved to Walnut Creek, California and then on to Phoenix Arizona where Patricia attended college — and where they were blessed with a handsome, wonderful son, Matthew.
When Jennifer moved to Florida, married and became pregnant, Patricia gathered James and Matthew and made the move to Melbourne, Florida so she could be close to her daughter and grandchildren.
Patricia (or Trish as she liked to be called) was always open to listening and talking about the mysteries of the universe whether it be the existence of aliens, the afterlife or the supernatural. She was quick to laugh, dance and sing a silly tune (including "What's up Doc" by Bugs Bunny — for which she also created a signature dance). Her grandchildren — who affectionately called her G-ma — were her heart and she spent countless, loving hours sharing stories and playing games (including Monster Mommy hide and seek which always sent them running). To her daughter Jennifer she was a fountain of unconditional love, support and friendship.
Over the years, she worked as a yoga instructor, teacher and a nurse until finding her calling as a realtor. She always took care of homeless animals and selflessly volunteered her time to the community, serving on Melbourne Downtown Community Redevelopment and Advisory Committee for 17 years. Together Jim and Trish explored, traveled, and had many adventures over the years. If anyone was ever nervous, sick or in need, Trish was quick to surround them with her signature white light for positive energy and pink light of love.
Patricia was predeceased by her beloved son Matthew Nichols, her beautiful sister Donna, and her parents Rosemary and John. She is survived by her loving husband of 41 years, James Nichols, her daughter Jennifer Torres (John), her grandchildren, Timothy Wirth, Emily Wirth, Isabelle Torres, and Daniel Torres, her sister Pamela McClellan (Steve), and brothers Jack Flynn (Margy) and Dennis Flynn.
Patricia was a creative soul, a generous spirit, a traveler, a mystic, a seeker, a survivor, a confidant, and a lover of all things French – She was unique and special and strong. She will be fiercely missed — and always remembered.
Services will be held on January 30, 2023 at The Holy Trinity Episcopal Chapel, 50 West Strawbridge Avenue in Melbourne at 2 p.m.
Because she loved animals so much, in lieu of flowers, the family requests donations be made to Florida Wildlife Hospital and Sanctuary in Melbourne.
>