Ronald Franklin Wolff, Sr.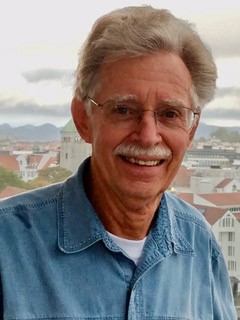 Born on May 17, 1943 in Celina, Ohio
Departed on September 14, 2021 in Palm Bay, Florida
On Tuesday, September 14, 2021, Ronald Franklin Wolff, Sr., loving husband and father, passed away at the age of 77 after a two year valiant battle with cancer.
Growing up in Indianapolis, he moved to Florida and attended high school in Vero Beach, and moved to Eau Gallie soon after. He began working as a apprentice carpenter, driving a small motorcycle to Cape Canaveral every day to support his young family. It wasn't long before Ron became a master level carpenter, earning numerous awards and winning the 1967 Florida State Carpenter's Apprenticeship. Ron spent his working years building the "new" city of Palm Bay as a carpenter and crew leader for various large builders in the area.
After years of being a single father, Ron met and married BeeGee Wallace and added "awesome step-dad" to his resume. In the early 1980's, Ron's carpentry skills were put to the test as he designed and built his family a home in Palm Bay where he and BeeGee have lived since moving in.
Ron loved science and was an avid reader of Scientific American. Ron was affectionately known as "MacGyver" by his friends, as he could fix almost anything and loved the challenge.
In Ron's retired years, he and his wife spent much of their time helping friends, relatives, and volunteering at local non profits. They were recognized by Hidden Potentials as "Volunteers of the Year" for Brevard County in 2004. Ron gave so much to everyone while asking for nothing in return, and had the upmost patience. He will be missed by many but not forgotten.
Ron is survived by his wife BeeGee Wallace Wolff of 41 years, son Ronald F. Wolff, Jr (Judy) of Rochester, NY, daughter Mary Kate Leigh (John) West Melbourne, Fl and step-son Brian K. Bright (Jenny) South Pasadena, CA. He also leaves four grandchildren and two great grandchildren. A celebration of his life will be forthcoming and in lieu of flowers, the family would appreciate a donation to the Pancreatic Cancer Action Network.
Pancreatic Cancer Action Network
22 entries.
We are grieved at the loss of a treasured family member. A part of our hearts goes with Ron, and we are grateful for the time we shared with him. Ron was a man who gave often of his considerable talents. His legacy of giving and love, will always live in our memories. You are greatly missed our brother-in-law.
We are so very sorry for your loss! You and your family will be in our prayers!
What a wonderful and caring man. He was always fixing things at Space Coast Early Intervention and would never hesitate to fix something or help when needed! My thoughts and prayers go out to BeeGee and his family.
Everywhere I look in my home I see Ron's touch, but touching our lives was the best. There is a void that can only be filled with memories.
Touched by the accuracy of the entry you have shared. Ron will be remembered as all of those things, as well as, a terrific conversationalist. Many meaningful moments shared at the side of BeeGee. Cherish knowing family like this crossed into my own. Much love.
Thinking of you BeeGee, I know it is hard
Sorry for your loss. He will be missed.
Oh BeeGee, I am so sorry for the loss. I truly respect you both for al the love you showed everyone, and the hard work you gave to Space Coast Early Intervention Center.
So very sorry to hear about Ron. May his family and friends take comfort in the many loving memories of him. Our prayers are with you.
We will miss him till we see him again...We love you Dad.
Rest In Peace, Ron. You will be missed not only by your family but the community as well.
BeeGee , May you have peace knowing Ron was so well respected and loved. I feel honored to have known him for all these years. Love , hugs and prayers to you and the family.
A good man, good friend and as noted, wonderfully fun, inquisitive and talented. So many joyful times, he will be sorely missed by us all.
Words are never enough at a time like this. Our hearts are broken. My love and prayers are with you BeeGee and for the family . I will cherish the memories His heart was as big as the sky itself. Know that you are always loved and you are always family. XO XO.
Our deepest sympathies to you and your family.
We are so sorry about Ron. Treasure the memories and prayers to you and your family for strength at this difficult time.
We loved Ron. He really was a person to aspire to be like. We love every minute we got to spend with him. RIP dear Ron.
May God comfort you during this time and always! Ron was a joy to be around and a wonderful, kind person! Prayers go out to the family!
Rest In Peace Ron. It was my extreme pleasure to know you. You were a loving friend, Grand and Great Grand Father, Father and Husband. prayers for you and your family. 🙏🙏🙏