Samuel Luther Bockman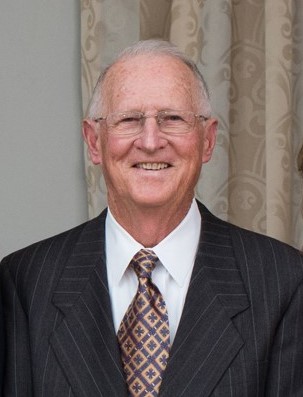 Born on April 6, 1943 in Columbus, Georgia
Departed March 7, 2023 in Rockledge, Florida
Samuel Luther Bockman passed away on March 7, 2023 at the age of 79 after a long battle with cancer and will be reunited with his loving wife, Bobbie Bockman, who passed on December 25, 2021.
Sam was a prominent banker in the community having worked for SunBank and later founding Reliance Bank of Florida, where he served as President and CEO. He was very involved in the business community and contributed to the growth of Brevard County from the 1980s through the 2000s. Although he took great pride in his business accomplishments in Brevard, he took even greater pride in the bonds he created among friends and business partners across the Melbourne area.
Sam grew up in Columbus, Georgia; the son of Jim Grey Bockman and Ollie Mae Ware Bockman, attending Columbus High School and later the University of Georgia. He had a love for sports, especially his beloved Georgia Bulldogs. Having been a member of Sigma Nu fraternity and graduating the Terry School of Business, he enjoyed keeping up with past and current Bulldog legends in the NFL and those playing on the PGA. A higher power must have been involved with Sam's last two years with us as Georgia won consecutive National Titles. Glory, Glory to Old Georgia! Sam also enjoyed travel, golf, snow skiing and gambling on the many trips he took with his wife, friends and family over the years.
Sam has two surviving children from his first marriage to Sandra Boldt Bockman; Stephen Bockman (Indialantic, Florida) and Bradford Bockman (Melbourne, Florida). Sam is also survived by his daughter with Bobbie, Jennifer Bockman Urcan (Ponte Vedre Beach, Florida) and his step children Thad Guyton (Atlanta, Georgia) and Jane Guyton Wilkinson (Prosperity, South Carolina).
He is survived by his three siblings Josephine Bockman Ross (Tuscon, Arizona), Linda Bockman Whitehead (Columbus, Georgia) and Jim Gray Bockman (Panama City Beach, Florida). Sam also has six surviving grandchildren Kaley Wilkinson, Morgan Wilkinson, Mason Wilkinson, Kyle Bockman, Conway Urcan, and Payton Urcan.
There will be a private ceremony in Melbourne, Florida on April 1, 2023 to celebrate his wonderful life. In lieu of Flowers, the family requests any donations to the Mayo Clinic of Florida in Jacksonville or the American Cancer Society.
Mayo Clinic / Jacksonville
American Cancer Society
7 entries.
What an amazing life and legacy. So sorry for the loss of this dad, uncle, friend, brother, community leader, and business builder. May Bobbie and Sam enjoy their heavenly reunion. All our condolences, Stephanie, John, Walker and William Farley
My deepest sympathy to family. He was a good man he will be missed. No more suffering you will have peace
Sam and Bobbie were like parents to my daughter, Katie while she was growing up. She was friends with Jenny and enjoyed going on ski trips to Colorado with them. Sam was very witty and loved to tease the girls. He will be dearly missed.
Deepest sympathy to Sam's family. I had a wonderful conversation with him a couple of days before he passed away. We have been friends since Columbus High School. I will miss him. He was a remarkable person. He suffered terribly. Rest in Peace, my sweet Sam.
A great banker & Bulldog. Rest In Peace and we have the family in or prayers. Al
My beloved brother, Sam, will be missed by us and many others. He fought the good fight !, love, your sister, Linda