William E. McCrea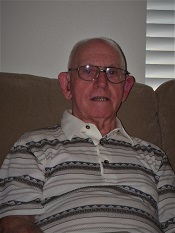 Born on March 11, 1937 in Jamestown, Pennsylvania
Departed on April 3, 2021, in Palm Bay, Florida
William E. McCrea, 84, was born in Jamestown, PA on March 11, 1937 and passed into the loving arms of God on April 3, 2021 at the William Childs Hospice House in Palm Bay, Florida.
He is survived by daughters, Sherry McCrea and Karen (Rick) Earley; grandchildren, Christopher (Mandi) McCrea, Lauren Earley and Rickey (Kate) Earley; great-grandchildren, Michaela and Adam; sister, Patricia (Joe) Szabados; and nieces and nephews. He is predeceased by his wife of 56 yrs. Shirley; brothers, Ernest and Joseph McCrea and sister, Judy Buckley.
Bill was a veteran of the US Army.
Bill enjoyed visiting with neighbors and never met a dog that he didn't have a biscuit for. He put family first, and was always available to do whatever he could to make their lives easier and to lend a hand. He was a hard worker and excellent mentor, willing to teach any task he performed.
Donations may be made to Brevard Alzheimer's Ass., or Alzheimer's Assn., Alzheimers
Alzheimers

2 entries.
My brother, Bill, was the kindest, loving and caring man. He loved his family. Enjoyed helping others, no one was a stranger. If he could help anyone, he was always there to do what he could to make their lives better. He cared for his beautiful wife, Shirley, till she passed in 2016. From Alzheimer's. My nieces, Karen and Sherry, were just like their father, and when he came down with Alzheimer's they took care of him, kept him at home, so he would be more comfortable and in his own surroundings, and normal as they could, for him. He always was fun to be with, lots of laughter, jokes and very kind to everyone. Bill, you are now in eternal peace with Shirley, mom, dad, Judy, Joey, and Ernie. You will remain in my heart always. Till we are all together once again, I love you, Billy! Sister, Patty Mccrea and family, Joseph Szabados, Lisa Molnar, and Michael Gatchell and family.
My heart goes out to you all during this difficult time. I will always remember your dads jokes and laughter and the kind man he was! I remember when your mom was dealing with her health issues, the love and care he showed your mom was beautiful...pure love! I know the past few years have been difficult but the amazing love that was given to him to make the past years as normal as possible is beyond words. He has now joined the love of his life in heaven. I am here if there is anything I can do. Love you! Tammy