Maria R. Fernandez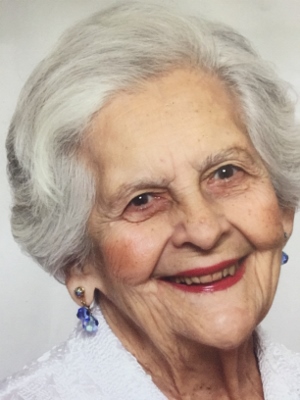 Born in Havana, Cuba on August 7, 1929.
Departed in Palm Bay, Florida on May 14, 2018
Maria R. Fernandez passed away peacefully on Monday May 14th. Born in Cuba, she came to the U.S.
50 years ago with her husband Julio Alberto and 2 young daughters. Maria was an only child and the first in her family to graduate from college with an accounting degree from Villanova University in Havana.
Maria and her family settled in Paterson, NJ, where she was very active at Our Lady of Victories Catholic Church community. Through many hardships and family illness she maintained her faith and her cheerful disposition. She was a very social person and maintained friendships from her early teens through the years.
She worked in the accounting field until her retirement in 2003, when she moved to Florida with her family. She joined Our Lady of Grace Catholic Church and was a Eucharistic Minister and reader for several years. She enjoyed her retirement years spending time with her great grandchildren and was always ready to go with them anywhere.
She is survived by her daughters Maria Kerby and Lina Swiacki and son-in-law Anthony Swiacki, granddaughters Roxana Otero and Diana Brzuchalski and her husband Matt Brzuchalski, great grandchildren Alex Brzuchalski and Keira Otero.
Services will be at Brownlie-Maxwell Funeral Home in Melbourne on Thursday the 17th from 5 to 7:30 pm, and the Funeral Mass will be at Our Lady of Grace in Palm Bay at 11 am on Friday the 18th.
1 entry.
My most sincere condolences to every member of Rosario's family. Rosario may you rest in peace! I have always remembered you as a great human being in all life' s roles. My sons Rafael, and Joel send their love to the women of your family. We love all of you dearly. Sorry, we lost contact at one point in our lives. God bless you all. Much love from Ana (comadre de Maria y madrina de Roxana y Diana).