Al Schmidt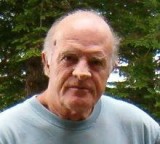 Born in Springfield, Ohio on November 20, 1939
Departed in Palm Bay, Florida, on March 30, 2019
Robert Alan Schmidt, age 79, passed away surrounded by his family on Saturday, March 30, 2019. He was born on November 20, 1939 in Springfield, Ohio. From the start he was not Robert. He was Al. Al served in the Navy. He was a member of Patrol Squadron 23, Crew 1 stationed at Brunswick Naval Air Station in Maine. On June 30, 1963, he married Regina Ann Littlefield. Together, they had four children, David, Eric, Peter and Holly. Al got his first training in engineering in the Navy. Later, working as a Design Engineer in Xenia, Ohio he became an expert in potentiometers. He had multiple patents in his name. He designed and built machines used in industrial manufacturing. Some of these machines are still in use today. Al enjoyed boating and scuba diving. He enjoyed camping with his family, horseback riding and every aspect of Florida living. Al loved his second home in Silver Lake, New Hampshire. He was always grateful for a chance to show New Hampshire to someone that he loved. Al was preceded in death by his son Peter. He is survived by his beloved wife of 56 years, his sons David and Eric, his daughter Holly, and seven grandchildren. Funeral services will be held on Friday April 5, 2019, 11:00 AM at Eastminster Presbyterian Church in Indialantic, Florida.
11 entries.
So sorry to hear about your loss, Regina. Our prayers are with you and your family
I am so sorry, Reggie. You are in my thoughts and prayers.
Thinking of you and your family at this time. You in our prayers.
My deepest condolences to you and the family! May he Rest In Peace and live on in all of you!😞🙏🦋
Uncle Al was one of those people I could sit and listen to for hours. I loved his insight, perspective, and sense of humor. We enjoyed him so much that Kristen and I scheduled our visits to Silver Lake to coincide with Al and Reg's vacations. On behalf of my family, we will dearly miss him.
Our heartfelt condolences to his wonderful family. We will miss his giant personality and appreciate the memories he leaves us with. Love to the family, Jo and Rog
Our hearts are with you all. Uncle Al was always so full of love and always had a twinkle in his eye. Dear Uncle Al, we honor you as our beloved ancestor. Give Peter a big hug from us. ❤️
Always with you buddy... Keep a place at the table for me - one by the water. Love, Bob
Always with you buddy. Keep a place at the table for me - one by the water. Love, Bob