Alan R. Broadbent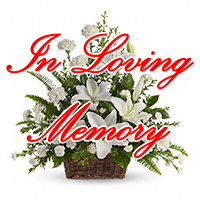 Born September 8, 1946 in Philadelphia, Pennsylvania .
Departed on December 16, 2020 in Melbourne, Florida
Alan R. Broadbent, 74, was born in September 8, 1946 in Philadelphia, PA to Joseph and Lois (Ammon) Broadbent and passed away, after suffering a stroke, December 16 in his home in Melbourne.
Alan retired from the Air Force as a Master Sergeant with 21 years of service. He appreciated Military vehicles, historical memorabilia, vintage automobiles, animals and traveling via RV.
Alan is survived by his three sons, Robert, Jonathan and Daniel Broadbent; companion, Faye Parsons and her daughter; two sister; five grandchildren and his beloved cats, Tom and Morrison.
Private Service will be held at Cape Canaveral National Cemetery with military honors.
14 entries.
I never got to meet Alan but I am a very old friend of That Faye's daughter Kathy and they have treated me always like a family member and I know both of them adored Alan and he will be sorely missed, I am sorry for both of your loss...
Alan you will be sadly missed ...I knew Carole since High School and just met you personally 2 years ago...I will remember your contributions to " Fazebook" and your good natured curmudgeonly manner..I so admired your loving devotion to your Faye...Not many men express their love so openly... So rest peacefully in God's loving arms Faye 's Sweet Prince..
In time, I hope I can fondly reminisce about Alan Broadbent and his endearing facebook posts that kept me as one of his enraptured friends for so long, without bringing tears. His sayings: "Every cat is important .. ThatFaye, my own personal movie star ... going out on maneuvers .." etc. will stay with me forever. I loved you, Alan.
So sorry to Faye, Rob, Jonathan, Daniel, and Carol for the loss of Alan. May he Rest in Peace.
I hope in years to come, I'll be able to remember Alan Broadbent and his unique FB sayings ("Every cat is important; ThatFaye: my own personal movie star; etc." without crying; such an impression he made on me, I'll never forget him. 😖
It's still hard to believe that Alan is not here. I never met anyone so full of life, and full of love for his friends and family. He had the knack of making us all feel special. He is missed greatly, and has left a big hole in all of our hearts. Thank you for your friendship Alan.
Alan, dear Alan you left us too soon. A truly decent man, father and friend to many we will miss you everyday. I will think of you and your darling Faye everytime there is a Sedona sunrise and remember your shared dreams of retiring to Northern AZ someday. Rest in peace dear Alan, for God wanted you home....
I had the pleasure of first meeting Alan over 20 years ago. He was always the sweetest man, very unique, happy and caring with a great sense of humor. He was also a great cook and my family and I have spent a few Thanksgivings with him and Faye and it was always a wonderful time. What I remember most about him was his love and devotion for Faye. He was always reporting on Facebook how lovely she looked each day and always professing how much he loved her. It was so adorable how he doted on her. They were perfect soulmates and always will be. Alan will be forever in our hearts and thoughts.
I'm so very sorry. Alan was a sincere, compassionate man. He will be missed
After 27 years together u stumbled in mumbling and when I asked u if ur were ok more mumbling and then u sat down and mumbled more . I new serious called an ambulance in 5 minutes- I knew would never see u again- would never hear yr daily voice saying"I love you Faye"' or calling me "that Faye"' taking crazy pictures of me in all my dresses and shoes u loved. It hurts so.bad- pain so great- I miss u.my love so.infair and sudden- u looked do young and always funny.
Alan was always a stand up guy. I met him several times when we both resided in Melbourne. We reunited our friendship on Facebook. His posts kept me laughing several times a day. He always posted about ThatFaye, the love of his life. She was his own private movie star. His love for her was what others could only wish for. Alan loved cats, especially Tom and Morrison. He fed a lot of ferals over many years. The Palomino cat was one he loved until his death a few years ago. I picture Alan meeting Palomino cat in heaven caring for him again. RIP Alan wrapped in His everlasting arms of love.
Never met Alan in person but had contact with him thru Facebook for several years. He was a very interesting person. Hope cemetery does not get crowded.
Rest in peace. Sorry we had to quit our Facebook friendship but I still considered you a friend. I'm sure you are a lot happier were you are now. Until we meet again...
I HAVE KNOWN ALAN SINCE I WAS 11 YEARS OLD. WE GREW UP IN THE SAME NEIGHBORHOOD. I KNEW HIS SISTER CAROLE, FIRST. HIS MOTHER WAS SUCH A NICE, QUIET, GENTEEL LADY, FULL OF GRACE. I REMEMBER NANA. I REMEMBER GOING TO THE RACETRACK IN VALKARIA WITH HIM AND FRIENDS. HE MARRIED ROSE, WENT INTO THE SERVICE AND WE LOST TOUCH. ENTER THE COMPUTER AGE & SOCIAL MEDIA. WE FOUND EACH OTHER ON MYSPACE, THEN FB. HE COULD MAKE ME LAUGH LIKE NO OTHER - HE HAD A QUIRKY SENSE OF HUMOR & COULD HAVE ME IN HYSTERICS. HE WAS AN ANIMAL LOVER WHICH ENDEARED HIM EVEN MORE TO ME. WE SHARED A GREAT LOVE OF OUR CATS. HE WAS ALWAYS SO KIND AND GENEROUS TO ME. HE COULD DRIVE ME CRAZY TOO, BUT IT DIDN'T MATTER - I COULD NEVER BE MAD AT HIM. I'M SO SO SORRY THIS HAPPENED TO YOU, ALAN - I WISH YOU COULD HAVE LIVED LONGER TO ENJOY YOUR RV'S. I AM GOING TO MISS YOU TERRIBLY. WHAT A SMART MAN ALSO - KNOWLEDGABLE ON MANY SUBJECTS COULD FIX ANYTHING. WE JUST SHARED A VERY SPECIAL FRIENDSHIP & I LOVED HIM WITH ALL MY HEART. MY CONDOLENCES & SINCERE SYMPATHY TO THE FAMILY & HIS PARTNER, FAYE.