Alfred (Al) Jodoin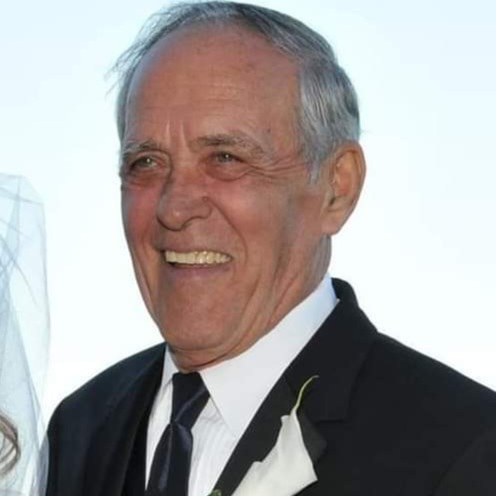 Born December 4, 1930 in Walpole, Massachusetts
Departed March 28, 2022 in Grant, Florida
Alfred (Al) Jodoin, 91 formally of Stoughton Massachusetts, passed peacefully at home in Grant, Florida on March 28th beside his loving wife of 48 years, Evelyn Jodoin (DeBassio).
He leaves behind his daughter Evelyn Kessel and her husband George of Grant, his son Sean Daly and his wife Monica of Cape Canaveral, his daughter Christine Daly of Sebring, his son Kevin Daly and his wife Barbara of Norton, Massachusetts. He was predeceased by his sons Clifford, Steven and Patrick Daly. He was loved and admired by his many grandchildren and great grandchildren.
Al grew up during the Depression in Walpole, Massachusetts and is the last of his five siblings to pass. He quit school at an early age to help support his family by driving a truck. A career which took him through his entire life as a Teamster driving for various companies throughout the Boston area. A courteous and safe driver with a flawless record, except that one time he said he almost crashed into a wall going through Brooklyn on a red-eye run to New York when a kind young woman flashed him. His sons offered to go along with him the next night to ensure his safety. He spent time in the Army Air Corp at Moses Lake in Washington in the early '50s after having completed their commando course.
At six foot tall, coal black hair, piercing green eyes, and bellowing voice, Al immediately drew attention when he entered a room. He would put everyone at ease when he flashed his brilliant smile. He never met a stranger and always had a soft, caring heart when it came to animals. Al was a devoted Red Sox fan, he always had his radio on listening to games whether working in his yard or down at Horseneck Beach. He also enjoyed playing the organ (at 9am on Saturdays) much to the chagrin of his children before the requisite family trip to Bickfords Pancake House for their 'Big Apple' pancake. Al loved and lived the John Wayne ethos, even naming two of his dogs Hondo and Duke. He enjoyed watching Benny Hill and unfortunately for his children, Lawrence Welk.
He always joked it must have been true love to marry a widow with 6 children, or he was crazy! After 48 years of marriage there's no doubt it was true love.
It was a heck of a ride!
A celebration of his life is being planned for Thursday, April 14, 2022 at Brownlie Maxwell Funeral Home, 1010 E. Palmetto Avenue, Melbourne, Florida 32901.
2 entries.
Our love and condolences to Al's family (my cousins). We loved Al and always enjoyed our visits with him and the rest of the family (in Massachusetts and Florida). I remember hearing him playing the organ and singing the oldies in the morning to wake us up. What fun hearing him! I will miss him and I pray for God's peace and comfort for his wife Evelyn as well as the rest of the family. My love to you all. (Boola)
I have been lucky to know Poppa for a number of years now. His personality sure lit up the room! His kindness and sense of humor was second to none. I know that he was loved and respected by family, friends, and even casual acquaintances. Both Nana and Poppa ( as I lovingly call them) gladly welcomed our family into theirs when Ben fell in love with Teresa. Poppa was one of a kind, and will be terribly missed. He will live forever in the hearts of those who love him. ❤️