Alfred Elmer Hemmerlein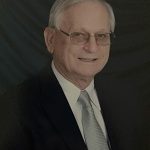 Born on March 17, 1931 in Jasper, Indiana
Departed in Melbourne, Florida on April 27, 2020
Alfred Elmer Hemmerlein, 89, of Melbourne, Florida, passed away on Monday, April 27, 2020, at Atlantic Shores Nursing Home Center, in Melbourne, Florida. Alfred was born in Dubois County, Jasper Indiana, on March 17, 1931, to the late Jacob and Mary (Thimling) Hemmerlein.
He is survived by his wife Bernadine, their children Brenda Nugent (Scott) of New Smyrna Beach Florida, Mark Hemmerlein (Karen) of Lynchburg Virginia, Roxane Brock (James Jr) of Dahlonega Georgia, and Grandchildren: Amanda Nugent, William Nugent, James Brock III, and Isabella Brock. Surviving siblings include Elizabeth Ledbetter of Evansville Indiana, Marcell Laughlin of Evansville Indiana, Harold Hemmerlein of Hayesville Indiana, Amos Hemmerlein, and his wife, Judy of Hayesville Indiana, sister-in-law Marilyn Hemmerlein, and numerous nieces and nephews. Deceased siblings include, Willis was killed in WWII, another brother Edward and sister Leola, died in infancy, Margaret Zehr, Eugene, Helen Mann, and Viola Pride.
Alfred was baptized at Emanuel Lutheran Hill Church, in Dubois Indiana. He resided in Jasper, Indiana, for 38 years. There he met Bernadine Fuhrman Hemmerlein, his wife of 64 years. They were married on June 12, 1956, at St. Paul's Luthern Church, Hayesville, Indiana.
He served in the United States Army and the Reserves for six years. He was a construction worker with the Carpenter's Union. Alfred was a member of St. Timothy's Luthern Church in Melbourne, Florida. He attended weekly bible studies, he participated in the Men of St, Timothy gatherings, and was a greeter. He loved gardening, building furniture, and crafting. Alfred received many accolades and awards for giving his time and abilities. During his lifetime, he built numerous wheelchair ramps and helped with Habitat for Humanity in Jacksonville, Florida.
Family and Friends will meet at a later date for a memorial service. Memorial contributions may be made to Brevard Alzheimer's Foundation (Joe's Club), 4676 North Wickham Road, Melbourne Florida 32935, or Saint Timothy's Luthern Church, 1903 Croton Road, Melbourne, Florida 32935.