Arlene Juzwik Witkowski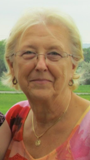 Born in Buffalo, New York, on March 12, 1943.
Departed in Melbourne, Florida on June 21, 2018
Arlene Juzwik Witkowski ; 75 of Java Lake NY passed away June 21, 2018.
Arlene graduated from Riverside High School Buffalo, NY class of 1961. After graduation she worked at Rich Products as a bookkeeper.
Arlene and husband Mike later moved to Java Lake, NY where she established, owned and operated Hungry Mike's Drive In Restaurant for 35 years. She was well known in her community & her customers affectionately called her "Ar".
Arlene devoted her life to her family. She was a dedicated caregiver to multiple family members throughout her life, always placing others first. In her spare time she enjoyed knitting, crocheting, fishing, reading, and playing cards.
Arlene is survived by her loving husband Mike, daughters Pam (Mick) Flannery and Debbie (Jeff) Young, son Mike Jr. (Peggy) Witkowski. Grandchildren Deanna, Alyssa, Sinead, Conor and Ashling. She is also survived by one nephew and several nieces. She was preceded in death by her sisters Marion (Bill) Holland and Nancy (Vlad) Feingold.
A funeral mass will be held at Ascension Catholic Church, 2950 N. Harbor City Blvd. Melbourne FL 32935 at 11:30 AM on Wednesday June 27, 2018.
A friends and family visitation hour will be held in Our Lady's Chapel at 10:30 AM prior to the funeral mass.
Burial immediately following at Cape Canaveral National VA Cemetery in Mims, Florida.
In lieu of flowers, contributions in her memory may be made to Ascension Church.