Barbara Beindorf Deere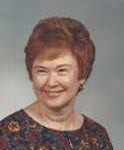 Born in Vero Beach, Florida on October 20, 1935
Departed in Melbourne, Florida, on May 28, 2019
Barbara Beindorf Deere, 83, of Melbourne, Florida, passed away on May 28th.
Visitation will be at 6:00 PM on June 7th at Brownlie-Maxwell Funeral Home located at 1010 Palmetto Ave, Melbourne, Florida with a memorial service to follow at 7PM.
Barbara was born and raised in Vero Beach, Florida to Paul and Velma Beindorf. She married Roy Deere on December 27th, 1977 in Vero Beach, Florida. She worked as a teacher at Gifford Middle School in Vero Beach teaching math and science. She founded and managed Beads by Barbara. She was involved in the Canaveral Gem and Mineral Society, SFMS Wildacres Registrar, the Post-Polio Society, and the Embroiders Guild.
Barbara is survived by her husband Roy Deere, daughter Michelle Mears Servos, son Paul Mears, six grandchildren Colby Servos, Tara Servos Morgan, Joseph Servos, Christopher Mears, Stephanie Mears, Kathleen Mears and two great grandchildren Amelia Morgan and Juliet Servos.
In Lieu of flowers donation may be made to Polio Plus, c/o Melbourne Rotary Club, PO Box 997, Melbourne, FL 32902
3 entries.
Have know the family for years , so sorry for the loss God Bless!
My love, thoughts and prayers are with you all. Ms. Barbara was one of the finest friend's, mom's, grandma's and great-grandma's I've known. Her sweet face and smiling eyes will be missed. Heaven has gained by our loss. Love to you all, Mary 😘
A great, kind and gentle lady - such a pleasure to have known her for many years... she will be missed by all. RIP Barbara as you deserve peace and comfort.