Barbara Breuning Montano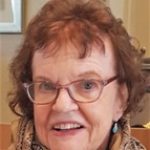 Born in Bismarck, ND January 19, 1945.
Departed on February 28, 2018 in Palm Bay, Florida
Barbara Breuning Montano, 73, of Melbourne, passed away peacefully on Tuesday, February 28th.
Barbara has been a Melbourne resident since 1952. A graduate of Our Lady of Lourdes, Melbourne High School and BCC. She retired from the FAA, as an Executive Administrative Assistant with 42 years of Civil Service.
Survivors include her husband of 48 years, Leonard Harold Montano, a brother, David Breuning, and sister, Christine Breuning Schornagle. She was predeceased by her son Eric, and her parents George and Doris.
A celebration of her life will be held at 11 a.m. on Monday March 12th at Brownlie-Maxwell Funeral Chapel. Anyone wishing to make an expression of sympathy is asked to consider a donation to a Parkinson's or Hospice organization.