Barbara Dobrynski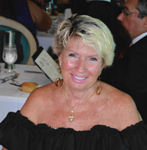 Born in Boston, Massachusetts on March 1, 1947
Departed in Melbourne, Florida on October 19, 2019
Dear friends,
Thank you all for your generous support, loving stories and pictures, and prayers. Please continue to celebrate her life as we say goodbye.
Barbara Dobrynski
Barbara was born in Boston Massachusetts on 1 March 1947 (I know I gave away her age, but those who knew her would have to agree she looked a lot younger and acted younger}. Her parents were Otto and Mary Thureson. She leaves behind her brothers Otto and Dennis, stepson Douglass, his wife Holly and their children Sebastian, Penelope, Maximillian, and Cosette, and her loving husband Peter. She received her undergraduate degree from Stonehill college and her graduate degree from Virginia State University. She had a number of jobs including a Technical writer for the Bureau of Alcohol, Tobacco and Explosives and a career of 20 years with the Central Intelligence Agency with an assignment to the National Reconnaissance Office. I sometimes think her real careers included art, shopping and cruising (124 cruises).
Barbara met Presidents, Vice Presidents, Cabinet members and astronauts. She could speak Korean and French fluently. She learned some Tagalog and Indonesian so she could talk to the many Filipino and Indonesian crew members on the cruise ship.
Barbara also liked to gamble and even found a casino in Kathmandu Nepal, Macau, and told the story about the casino in Manila with a sign that read "Check your weapons here".
She served in Korea for 3 years and became the go to person for shopping. Whenever a high-ranking dignitary would visit the embassy and wanted to do some shopping the Ambassador would call on Barbara. That is how she met President Bush, Vice President Quayle, a couple of Cabinet members and several Senators and Congressmen. Even though it was my tour in Korea the Ambassador knew me as "Barbara's husband". That became my nick name for the rest of the tour.
She loved cruising, meeting people and trivia. We would schedule our activities around the trivia. Between trivia and the Diamond lounge we met some of our closest and dearest friends who we have come to consider family. We also have old friends we have known for over 30 years and new friends and neighbors that are like family. We love you all.
A Memorial Service will be held for Barbara :
Thursday 24 October 2019 at 11:00 and a reception at our house from 1 –3 after the service. The service will be held at
Brownlie & Maxwell
1010 Palmetto Ave
Melbourne Fl 32901
Please, a donation to a charity of your choice ( an animal rescue one would have been her selection) in lieu of flowers.
2 entries.
As a representative of the Space Coast CIRA Chapter, we wanted to express our condolences and sadness to you, Peter and your family at Barbara's passing. As a new member of the Chapter, I only regret that I didn't have the opportunity to get to know Barbara..she sounds like an amazing person...please dont hesitate to call on us for anything you may need.
We are sorry to hear of Barbara's passing. Although we lost touch over the years, I remember both of you fondly. May she rest in peace.