Bertha M. Pinson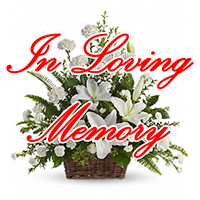 Born in Belfry, Kentucky on February 3, 1929.
Departed in Palm Bay, Florida on July 26, 2018
Bertha M. Pinson, 89, of Palm Bay passed away on Thursday July 26, 2018. She was a retired Automotive Service Coordinator moving here in 1984 from Warren, MI and a member of Heritage Baptist Church. She is survived by her niece Lana Bass of Melbourne, FL.
A memorial service will be held on Thursday August 2nd at 11am in the Heritage Baptist Church on Hollywood Blvd.
The family requests that donations in her memory be made to the American Diabetes Assn or American Heart Assn.