Betty Lou McMullin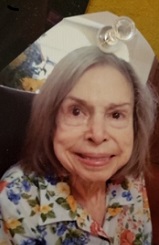 Born on January 26, 1940 in Clarksdale, Mississippi
Departed in Indialantic, Florida on July 18, 2020
Betty Lou McMullin, age 80 of Melbourne, Florida passed away early Saturday morning July 18, 2020 at her assisted living home "Generations on the Beach" after a long illness. Betty Lou was born on January 26th, 1940 in the Walnut Community outside Clarksdale, MS. Betty was preceded in death by her parents Clifton Oliver Hardy and Bernice Byars Hardy and her high school sweetheart Nicky Van McMullin also of Melbourne. A resident of Melbourne since the early 1960's Betty Lou worked as a teller at The Bank of Melbourne downtown, at Harris in the Personnel Department and finally opened a neighborhood Allstate Insurance Agency along with her late Husband Nicky McMullin.
Betty attended First Baptist Church of Melbourne and Central Baptist Church of Melbourne. Her faith and trust in the Lord were strong and evident parts of her life that she gladly shared with her family and friends during her life's journey.
Betty Lou is survived by her two sons Ricky McMullin of Pearl, MS and Mike McMullin (Angela) of Foxworth, MS.; three Grandchildren, Lauren McMullin Jones(Matt) of Madison, MS., Erin Turner(Shane) of Goss, MS. and Mason McMullin of Foxworth, MS.; five Great Grandchildren Tucker, Colton, and Oliva Jones of Madison, MS., Ryley and Ramey Turner of Goss, MS.
Betty Lou also leaves behind decades of long lasting relationships with multiple families and friends as a lifelong resident of Melbourne. She will be greatly missed and always remembered by those who entered her home.
A family graveside service will be held at the Magnolia Gardens Cemetery in the community of Paynes, MS sometime next week.
Please feel free to share any stories or memories of Betty Lou on the Brownlie -Maxwell page so others can read and know how great a friend and Mom she was.
In Lieu of flowers please feel free to donate to any Alzheimer's Research Charity.

6 entries.
Mrs. McMullin was a beautiful classy woman, that was very passionate about her husband and her boys. I have fond memories of the McMullin family from First Baptist of Melbourne. Peace and prayers for your family.
Betty was once my Sunday School teacher and I loved her happy smile and positive outlook.
I will forever miss my dear friend. We always had fun together and with our families. We are all very close friends with Betty, Nicky, Ricky. and Mike since 1960. Life isn't the same without her and Nicky. We know they are together in a Heavenly Reunion. Betty and Nicky will remain with us in our hearts and memories. Mary and Ken Allen
Mrs McMullin raised a couple of awesome sons and had the biggest smile every time we came to visit. She loved people and really loved all the kids that stopped by. Never ever did you see her without that smile.
Amazing woman and second mother to me. Always enjoyed visiting her and Nick. Ricky and Mike are second brothers to me. Will always remember her and our childhood. God bless!
BettyLou had me at hello! She was and always will be my favorite. Her smile lit up a room and she charmed everyone! It is a struggle to not see her everyday at Generations but my heart is rejoicing knowing she is with her beloved Nicky. RIP sweet angel. My Love & prayers are with her family and friends.