Betty M. Taylor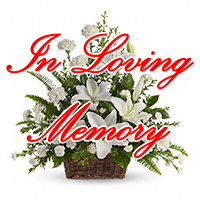 Born on December 19, 1939 in Bethlehem, Pennsylvania
Departed on March 13, 2021, in Rockledge, Florida
Betty M. Taylor, 81, of Melbourne, passed peacefully on March 13, 2021 under hospice care. She was born in Bethlehem, Pennsylvania on December 19, 1939 to George and Ada Achey Barthold. Her family includes her husband Ronald B. Taylor; daughters Sherry Hamer and Debbie Hagan; sons Rick Kunsman and William Kunsman; stepdaughters Dr. Wendy Arnold and Stacy Taylor; 22 grandchildren and 18 great grandchildren.
She was preceded in death by her son James Kunsman and her sister April Bealer.
Betty worked in real estate. A memorial service will be held at a later date.
2 entries.
Dear Mom, we dearly miss you! I am so thankful that we got to spend a few hours with you at the hospice center before you passed from here to glory. I wanted to call you today and tell you what I am making for supper. Clam chowder! First time I ever made that and it turned out AWESOME! Also I am making baked fish and something with sweet potatoes. I will really miss our Sunday afternoon chats...the way you always would say "well hello my son..." when you picked up the phone. It's such a comfort to know that you are in the presence of Jesus now and completely healed! What a hope we have in him! See you soon!