Beverly J. Sinclair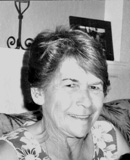 Born in Montgomery Co., Pennsylvania on February 26, 1943.
Departed in Melbourne, Florida on October 26, 2018
Bev Sinclair, 75, of Melbourne passed away on Friday October 26, 2018. She was a native of Pennsylvania moving here in 1963 from Philadelphia. Bev enjoyed taking care of her grandchildren, gardening, animals and cooking.
Survivors include her sons Ronnie (Trish) and Jerry (Marlina), daughter Tracy (Tom) Chatwood, grandchildren Erin, Stryker, Chase, Sierra, Spencer and Jet, great-granddaughters Lacey and Kendyl. She was predeceased by her grandson Brady.
A celebration of her life will be held on Monday November 5th at 2pm in the Brownlie & Maxwell Chapel.
Donations in her memory may be made to the Brevard Co. Humane Society.