William Harold Paine, Sr.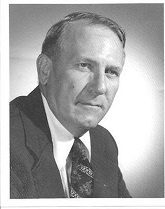 Born on November 14, 1926 in Peabody, Massachusetts
Departed on September 16, 2021 in Melbourne, Florida
INDIALANTIC -William "Bill" Paine, 94, was born in Peabody, MA on November 14,1926 and passed away on September 16, 2021.
Bill was a veteran of WWll and Korea. During WWll he was with the 3rd Marine Air Wing and he served in the Pacific. In 1952 he was recalled during the Korean conflict and he was assigned to Marine Corps. Institute in Washington, D.C. as Instructor of Criminology.
Before moving to Florida in 1955, he was employed by the Federal Bureau of Investigation in Washington D.C.
In Jan.1956 he began employment with the Boeing Co. retiring after 22 years as Security Director and Employee Relations Supervisor. He was Senior Security Representative on the Space Shuttle program for Rockwell International at the Kennedy Space Center for 6 years. He later worked part time as Latent Print Examiner for the Palm Bay PD.
Bill devoted his life to helping others and taking an active part in the community for which he received numerous awards. In 1960 he co-founded the Kape Kanaveral Klown Klub entertaining throughout Central Florida raising hundreds of thousands of dollars for such organizations as the March of Dimes, Muscular Dystrophy and purchased needed equipment to benefit the blind.
Over the years he served as guest Emcee for the Campfire girls, gave Merit Badge earning lectures for the Boy Scouts, and spoke at various Brevard County schools for career days, etc., and lectured for Rotary, Kiwanis and Lions Club meetings. He loved sports and he umpired Little League Baseball in Melbourne Beach for ten years.
During his lifetime he donated over 43 gallons of whole blood. In 1986 a unit of his donated blood was used in a special research project aboard the Space Shuttle Columbia. He was President of the Brevard County Blood Bank and Board Member of the American Association of Blood Banks Central Florida Blood Bank. In 1965 he was elected to the AABB Central Florida Blood Bank Board of Directors representing Brevard County and in 1995 he became Board Member Emeritus.
He proudly served Space Coast Credit Union in many capacities from Chairman of the Supervisory Committee to Board of Directors and Board Member Emeritus. Bill was a member of Melbourne Masonic Lodge 143, Beach Lodge 354, Honorary Member of Merritt Island Lodge 353 and Charter Member of Azan Shrine Temple. He was a lifetime member and past Commander of VFW Post 8191 in Melbourne. He was a past Vice Commander of the FBI American Legion post 56 in Washington D. C. He was a member of the United Methodist Church in Melbourne.
He was predeceased by his parents Ernest Jackson Paine and Martha Edna Paine (nee Stewart), two brothers, Ernest Joseph Paine, Richard Stewart Paine and his sister, Elizabeth May Etta O'Brien and grandson, Austin Joseph Paine. He is survived by his loving wife, Irene Elizabeth Paine (nee Coleman), son William Harold Paine, Jr. (Mary), three daughters: Shirley Paine (Frank), Linda Mcclain (James), Mary Ann Sperando (Daniel). Six grandchildren, William Harold Paine,Ill, Mary Paine, Michael Mcclain, Elizabeth Wibracht, Coleman Sperando, Spencer Sperando. Seven great grandchildren: Gage Wibracht, Penelope Paine, Kayden Mouldes, William Mcclain, Ripley Mcclain, Austin Segura and Sienna Segura.
Friends offering expressions of sympathy are asked to consider the Shriners Hospital for Children.
Visitation will be Saturday, September 25, from 10:00 to 10:30 am with a service to follow at 10:30 at Brownlie-Maxwell Funeral Home. Internment at Melbourne cemetery with graveside services and military honors.

2 entries.
We had many memories of Bill. He was such a good Grandfather. We use to sit with him watching sports that included our son Doug and his grandson, William. Then later on the sports field watching our daughter, Brandy, and his grandson, Austin at play. Nancy & Bill worked together at Boeing, he was in Security at the time. It was my first important job as a secretary. He wrote me up for forwarding classified mail to another employee in an unclassified envelope. He made me read a big manual and initial every page. We laughed about that years later. He was a stickler for rules. I told him he was unfair since he didn't make the person who sent it to me in the same envelope, read and initial a manual. He laughed and said I caught you doing it, not them. He had quite a sense of humor and oh my how he loved and adored his family. It was our pleasure to know him. What a good guy. Our condolences to all the family. Nancy & Cecil Snipes
My fondest memories of uncle Bill was his unique sense of humor, truely a clown at heart always quick with a joke or a funny story. He could be so straight faced and seemingly sincere about a topic then at the end bust out laughing knowing that he got me again. He was very proud of his Marine Corps service, as he should , he was an influence for Billy and I to enlist. I will surely miss him sincerely bob carroll