Bobbie Ruth Trammell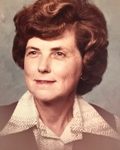 Born in Concord, Alabama on April 16, 1933
Departed in Melbourne, Florida, on June 1, 2019
On April 16th, 1933, Bobbie Ruth was born in Concord, Alabama, to Adolphus and Janet (Harris) Earley. Bobbie's parents worked hard to provide a good, stable life for she and her four siblings (Ronald, Sue, Doug, and Linda). Bobbie passed on these values of hard work, dedication and family loyalty to her children.
Bobbie graduated from Business Technical school, working five years in Alabama for U.S. Steel Technical Engineering. Bobbie loved her position and supporting the engineering group.
Bobbie met John Trammell six weeks after he was home from the Navy. Three years later they married and moved to Florida where they both began working for RCA at Patrick Air Force Base during the early days of the space program.
A few years later, Bobbie and John welcomed daughter, Cathy, and then twin boys, Tom and Russ. As a family, they enjoyed fishing, camping, scouting and little league. Bobbie and John were married 45 years before John passed in 2001.
Bobbie loved being a wife, mother and grandmother. She loved focusing all her energy on her family. Bobbie was happiest "doing" for her family. Even as successful and productive adults, her children and grandchildren were the center of her world.
As a long-time Melbourne resident (1956), Bobbie saw, and experienced many changes. As a member of the Junior Women's Club, she was instrumental in helping establish the F.I.T. library.
On Saturday, June 1st, 2019, Bobbie (at the youthful age of 86) peacefully passed away with her three children at her side, joining her dearly missed husband, John, in heaven.
Bobbie is survived by her children Catherine, twins Thomas (Christina) and Russel (Laurie) Trammell; her grandchildren Eric (Jiyon) Trammell, Jennifer (Kyle) Tripp, Cierra Trammell and Curtis Trammell; and her great-grandchildren Madeline Trammell and Claire Trammell.
4 entries.
My deepest sympathies to the Trammell family. Your mother was the sweetest lady. God Rest Her Soul
"You will not find a better neighbor than Bobbie". These words from our brother, Ken, proved to be true. Bobbie was not only a good neighbor, she and Cathy are family and always will be. With love and prayers, Ray and Laura
Your dear mother who lived down the street from us in Hickory Hills was a fixture working in her beautiful yard year after year. She loved her home and it showed with all the love and care she gave it. You were and are truly blessed to have had such a wonderful mother, grandmother, great-grandmother and friend. Love, Ann Raley Flotte
In loving memory to one of the nicest woman I have known.