Bobby Stephen Meyer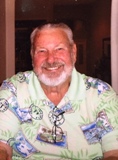 Born in Frostproof, Florida on March 21, 1940
Departed in Melbourne, Florida on December 7, 2018
Bobby Stephen Meyer, age 78, died suddenly at his home in Melbourne due to heart failure on December 7, 2018.
Born March 21, 1940 in Frostproof, FL to Leo and Lora Mae Meyer, he moved to Melbourne with his family in 1952. In 1956, he met, fell in love and married his high school sweetheart, Jill Linda Dull, while still a sophomore attending Melbourne High School. He eventually graduated from Mel High in 1958, finding time to overachieve in football for the Bulldogs while also a student, friend to all, and family man.
An original "Radiator" who first started working at Radiation, Inc.'s Melbourne Airport campus in 1959, he was a draftsman and designer for 40 years with what eventually became Harris Corporation before retiring in 2005 to pursue fishing and spending more time with his family.
He is survived by his wife of 62 years, Jill, their sons Steve (Trish) and Sleighton (Cheri), and daughter Stefany (Dino); grandchildren "little" Sloan, Janey, Maria, Gina, Jake, Charlie, Shane, Jackson, and Gracie; and great-grandchildren Madison, Jaxson, Jenson, Emma, and Branden. He is also survived by his brothers Morris (Anita) and Carl (Prill); sisters Lavonne (Fred), Diana (Bob), and Martha (Dean); and more than two-dozen nephews and nieces.
And he leaves behind his beloved dog, sidekick and daily walking partner, Holly.
He was preceded in death by his parents; his sisters Betty and Evelyn; and his son, "big" Sloan.
A viewing will be held at Brownlie and Maxwell Funeral Home on Friday December 14th from 5pm – 8pm. Funeral services will take place at Heritage Baptist Church in West Melbourne on Saturday, December 15th at 2 pm.
29 entries.
You will be dearly missed, we love you
To the Meyer family, my heartfelt and deepest sympathy. I enjoyed working with Bobby on the ROCC program and he was always smiling and helped me in so many ways. Godspeed Bobby.
You will forever hold a special place in our hearts. We feel so honored to be apart of your family and blessed to have known you.
I will miss you very much. You and Aunt Jill have always been there for me. I love you.
You will be missed by all that know you but we will carry you with us every day. Thank you for everything.
Uncle Bobby will be missed by our entire family. Always happy and joking with never a bad thing to say. We know you are enjoying fellowship now with family that have gone before you.
We all loved Uncle Bobby and are deeply saddened by the news. There will never be another like him that is for sure. He had a way to make people laugh and he was just fun to be around. Rest in peace dear uncle. We will pray for Aunt Jill and our cousins Sleighton, Steve and Stefany to help them during this tough time. We love all of you guys.
RIP Dear Cousin. You will be missed
We love you and will miss your companionship and guidance forever