Brenda Brown Crutchfield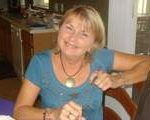 Born in St Louis, Missouri on August 17, 1953
Departed in Palm Bay, Florida, on May 18, 2019
It is with great sadness that the family of Brenda Brown Crutchfield announces her passing on Saturday, May 18, 2019. Brenda will be lovingly remembered by her daughter and son-in-law, Crista and Tony Guarino; daughter, Shawna Wilkinson; grandchildren, Paul, Kaci, Blake and Anthony; step-granddaughter, Kayla; sister and brother-in-law, Sheril and Jim Berneski; brother and sister-in-law, Troy and Deanna Adams; and many cousins, nieces, nephews, extended family and dear friends.
Brenda was a long-time resident of Melbourne, Florida who worked in the hospitality industry for many years. She was known and loved by many and will be greatly missed. She will always be remembered for her generous, loving and caring spirit. She had a huge heart and was a strong, amazing woman. Her grandchildren were the light of her life and she loved to spend every moment she could with her family and friends.
A memorial service will be held on Friday, May 24, 2019 at 4pm at Brownlie-Maxwell Funeral Home in Melbourne. A Celebration of Life will be held at a later date, yet to be determined.
15 entries.
My darling friend, I get up everyday, just like it was yesterday and the day before that. But it is not. I am constantly reminded by my heart that you are not going to make a comment on my facebook, or call or text me. I miss you so much. It is not that we spoke everyday, but it is that you are never going to have a conversation with me ever again. And then I start to cry. Not for you darling, but for me and how much and how long we were in each others lives. Billy Griffith. Our first apartment together! ( I just deleted about 25 lines of memories with you that others do not have to know about!) Vivian and Everett, Me and Jimmy, You and Butch... hanging at the little house in Micco. Sebastian Inlet. River Drive. Charlies Pizza, writing our names on the wall, Jerry's Pizza, the drive-in. More fun than anybody should have ever had. We grew up in the best place in the world! On the ocean, The Cape!, small town Eau Gallie! The library, after the sun set hanging out! People ask me why I ever left. (You know I had to). But no matter how far away I was, you were and are such a part of my life and a piece of my heart went with you on May 18. 2019. All good memories Bren, even thru the challenges that life thru at us. Never our friendship wavering. OMG so much more to share with you today, but, another day...in my journal. I will love and miss you all of my life, and hopefully after I cross over we will be reunited. You my dear one, the sweet one. What a life we had together and so many friends that we had...some have already passed over and I hope that you connect with all of your loved ones , and are whole again. I love you. I will always love you. Pls give me your sign that we talked about.
Our thoughts and Prayers are with you all🙏🏻 Brenda loved and lived life to it's fullest, may you find comfort in your memories of her always ❤️ Alana Jennifer Jessica
I can hardly find the words to express the love in my heart for this amazing woman. I have NEVER once EVER called her Brenda. It was ALWAYS MOM. She was literally my very FIRST other mother. Crista & I went to elementary school together and instantly became best friends. My parents bowled in the same league with Mom & Grandma & Grandpa Adams for years EVERY Sunday night. Mom was one of the strongest women I have ever met. She never treated me as if I wasn't one of her own & it worked the same way with my Mom & Dad to Crista & Shawna. When she worked at KSC on the Columbia shuttle she had jackets made for Crista & I with the shuttle on the back & our names on them. I still have it & will treasure it even more now. She will be sorely missed! I love you, Mom. "Bethers"
My sweet sister...I miss your loving smile, our laughs, our tears through the hard times, our daily chats & your warm hugs. Life will never be the same without you but I know your spirit will walk beside me...cheering me on. Thank you for teaching me how to love. 💚👭💜
I remember Brenda as a fun loving cousin. I'm sorry I didn't know her as a adult but what I have heard from Kerri she was a great person. I enjoyed following her on Facebook. I am so sorry for your loss.
While reading this obituary, I thought of the first time I met Brenda, 7th Grade Johnson Jr. High School. My first steady girl friend. Over the years, every time I saw her; she greeted me with that beautiful smile and friendly shy way. A few years ago, I visited her in the hospital. I wish I could remember what we talked about; we laugh together till we cried. When I heard the news, I Prayed for the family...tears sent to Branda. Angel.....No doubt. Jim Bell
My sweet sister-in- love, I will miss you so much! I know you are better off in Heaven with mom, dad and Butch, but those of us left behind will miss you! I love you!
I moved to Eau Gallie just before I was 14, my dad was her parents insurance man, that's how we met! Instantly we became 4 ever friends, even worked together after high school! Brenda will always be a special part of me, she is without suffering & pain now, shine bright sweet Brenda <3
Farewell Mama. You were part of the village that raised me. Thank you. See you on the otherside sweet lady. I miss you. All my love and prayers to Crista , Shawna and family.
Praying for the family. Glad she is no longer suffering and is perfectly healed. John 14:1-6
Brenda and I worked in the same line of business. She was a great person and a great friend . We had a lot of fuu
I'll see you later Brenda, you can tell me all about it.
You may be gone but you will always be with us in our hearts. You will be missed. We all love you .RIP til we meet again.
I have known Brenda for years. She worked for my dad for awhile and her and I worked together at Fatboys restaurant. she was a loving and caring person. Always happy. She gave me a wheelchair a few months ago for my mom. I am so happy we were friends on fb. It kept us in touch.
Love you Brenda. I will be there with you in my spirit. R. I.P. My friend.