Brian Keith Meisenburg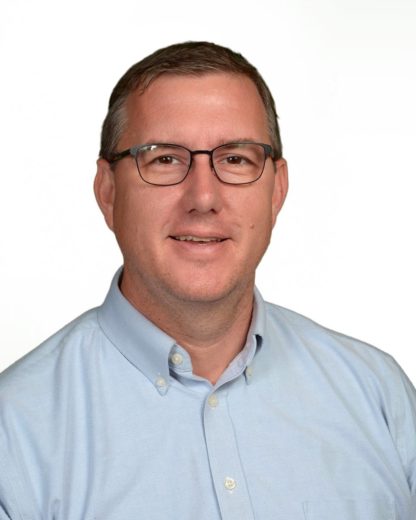 Born on August 27, 1980 in Orlando, Florida
Departed on June 15, 2021 in Palm Bay, Florida
Brian Keith Meisenburg, 40, went to be with the Lord on June 15th, 2021 after a courageous battle with cancer. He is survived by his wife Melissa and two sons, Colin and Ian. He is also survived by his mother Carolyn Meisenburg, aunt Angela Seymour, uncle Jack (Lela) Floyd and cousins Emily (Clayton) Lynch and James (Alexandra) Floyd. He is preceded in death by his grandparents, James and Ernestine Floyd.
Brian was born on August 27, 1980 in Orlando, Florida and grew up in Jacksonville, FL. At a young age he developed a love of music. He began taking piano lessons at age 12 and in his teen years taught himself to play the guitar. Brian was an accomplished musician learning to play multiple instruments including clarinet, saxophone, bass guitar, ukulele and mandolin. He graduated from Douglas Anderson School of the Arts in 1998 and earned a Bachelor of Music Education from Florida State University in 2004.
Brian moved with his wife to West Melbourne in the fall of 2004. He began working as the music teacher at Gemini Elementary School in 2005 where he taught until his passing. Over the last 16 years, Brian touched the lives of many students and parents through the music program he developed. While at Gemini Elementary, he fostered and grew the choral and strings programs. He began an after school guitar club and children's chorus for students in Kindergarten to second grade. Brian believed in the importance of music education in elementary schools and was a proponent of fostering the musical talents in every child.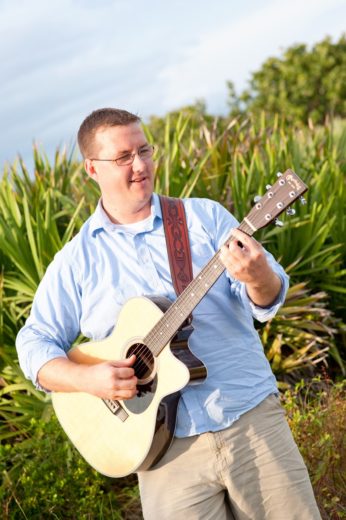 In addition to his career as a music teacher, Brian taught piano and guitar lessons for many students across Melbourne Beach and West Melbourne. He was the accompanist at First United Methodist Church, Melbourne, from 2012 – 2020, where he had the honor of playing for the traditional worship service as well as numerous weddings and memorials. Over the years, Brian was involved in several musical productions at the Henegar Center, including Smokey Joe's Cafe and A Christmas Story. As his busy life permitted, he also performed with the Indialantic Chamber Singers, and played guitar and keyboard in a local Melbourne Beach band.
Brian was a devoted husband and father. Aside from his musical career, he enjoyed participating with his oldest son in Trail Life USA, Chess Club at Gemini Elementary (he never lost a game on purpose!), and rocketry with the Spaceport Rocketry Association. Brian was outgoing and humorous. He was also kind and gentle, making friends everywhere he went. Brian's legacy will live on in the lives he touched through his teaching and music, and through his love for his family. He is already greatly missed.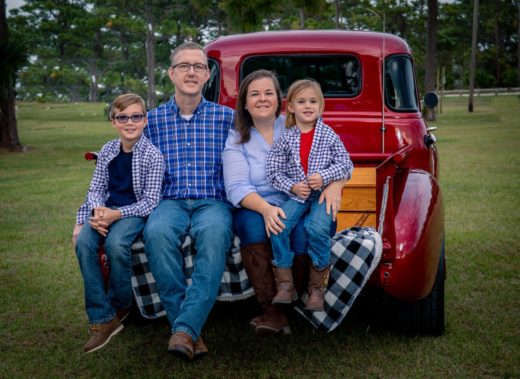 Join us in a celebration of life to honor Brian at Indialantic First Baptist Church, 170 Washington Avenue, Indialantic on Saturday, June 26 at 10:00 AM. A reception will be held in the Fellowship Hall following the service.
15 entries.
So sorry to hear of this loss....of a dear music educator and family member of one of our members. May his talented soul be remembered and shared. My prayers are for all of you at this time...family, friends and students.
Carolyn, your son had such a full and diverse life! I am sure he will be missed sorely, but will live on through his sons. May the happy memories console all during this difficult time.
My prayers are with you and your family.
Carolyn, I am so sorry for your loss, my prayers are with you and your family.
Brian and I grew up across the street from each other in Jacksonville. We lived in the Englewood area of town. Brian and I quickly became friends doing almost everything together. Honestly though it was much more than that. He was the big brother I never had. We haven't seen each other in many years letting life get in the way. We had talked about seeing each other a couple times yet it never worked out. I wish I'd tried harder to see him and meet his wife and kids. Farewell big brother until we meet again.
Carolyn, I'm so sorry to hear about the loss of your son Brian. I didn't get to know him like the rest of the Hayes' but I know he holds a special place in their hearts. May God comfort you, Brian's Wife & kids & the rest of your family during this time. Sending prayers & love your way! ❤️
Brian taught all 3 of our children: Jack, 17, George, 15 and Lucy, 10. We are so proud to say that they all have more than just an appreciation for music. Jack is in the marching band and plays the Euphonium and wants to follow in Brian's footsteps and be a music teacher - he played viola and guitar with Brian and also sang in the chorus. George is also in the band at his school and plays the clarinet - George played the Cello with Brian and learned to appreciate music from him. Lucy sings all the time and we will forever be singing "The Ghost of John" in our house and think of Brian when we do. Brian had such a fun loving way about him and my kids have such fond memories of him; mostly his sense of humor and silliness. His dedication to his students was so admirable. He was a friend to all. I had the pleasure of working with him in the chess club as he was the teacher sponsor. His enthusiasm was absolutely infectious and to watch the kids respond to him was a joy. He will be missed terribly but please know that his legacy lives on in so many of the children whose lives he has touched. We are so sorry for this tremendous loss to Melissa and the boys and the family Brian leaves behind. Brian will be forever in our hearts and will always be a part of our lives. Our community has lost such a great man but heaven has gained an angel.
Carolyn, I am so very sorry and know Brian will be missed and remembered by so many! He sure had many musical talents! May God wrap his arms around you and his children and all who loved him so.
After reading Brian's bio, he obviously loved life, music, his students and family. Truly a loss to leave life this early. It seems he lived life fully, which is the best anyone can hope for.
Kim & I are so sorry for your loss. We pray for your family & trust that the services will honor Brian & celebrate his life while bringing you comfort.
Carolyn, My heart hurts for you, Melissa and the children. Prayers of Peace & Aloha for all of you. May you find peace and comfort with each other. Much Aloha!
Brian and Carolyn lived across the street from us for years. He played with my son Sean and my daughter Jamie . He was a good boy growing up and he turned into a very wonderful man. Brian you are leaving sooner than I know you wanted too but apparently GOD needs you in Heaven. My family always thought a lot about you and you will be loved and missed. Say hello to GOD for me
Life will never be the same without Brian Meisenburg in it. He is and will always be loved and remembered. I pray his mother, wife, boys, and friends will find some comfort from God and their beautiful memories of Brian during these difficult times. Love always, Aunt Angie
I am pretty sure during our first Lab School parent meeting Brian thought I was that crazy lady! Little did he know how attached our little family would become to him, Colin, Ian and Melissa. Colin and Ian are curious, loving and so smart. Our family loves spending time with them all, we will cherish our many playdates, camping fun and get togethers as we continue to create more. Brian will never be forgotten in our house or in our future adventures with Melissa and Boys. So thankful Lab School introduced us and formed such a strong Family relationship. Melissa, I am here for you and the boys in anyway you need us. So deeply sorry for the loss of Brian, it truly is unimaginable. We will miss him so much.