Camille Catterton Odom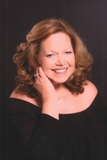 Born in Melbourne, Florida November 23, 1954h 13, 1925.
Departed in Melbourne, Florida on August 24, 2018
Camille Catterton Odom died on August 24, 2018, after a brief illness. Born in Melbourne on November 23, 1954, Cam graduated from Melbourne High School in 1972 and attended business school in Jacksonville before joining Harris Semiconductor, where she worked in Human Resources for some 30 years before retiring. It was also at Harris that she met Ray Odom, whom she married on October 16, 1982. Ray and Cam, Ray-D-O and Camio, shared many great years together before his untimely passing in 2009.
She made friends as easily as she laughed (and she laughed a lot). She loved music and playing in the Mel Hi Band, and later in the Melbourne Municipal Band, which was directed by her father. And more than music, she loved clothes, and more than clothes, she loved jewelry. But more than all of that, more than the sun and the moon and the stars, she loved her JJ — her daughter, Jennifer, who was the light of her life and who cared for her right until the end in every imaginable way that a child can care for a parent.
She was predeceased by her husband, Ray Odom, and her parents, A. V. "Chick" Catterton and Claudia Catterton. She is survived by her daughter, Jennifer Odom (Max); stepson, Brian Odom; brother, Van Catterton (Jody); sister, Candace Nile (Thomas); niece, Melissa Martin (Ben); Ray's mother, Ethel Odom, and his family in Central Florida; and more good, special friends than any normal person might expect to have in ten lifetimes. There wasn't nobody like our Camio.
The funeral service will be held on Thursday, August 30th, at 2:00 p.m. at First United Methodist Church, 110 E. New Haven Avenue, Melbourne, followed by a brief graveside service at the Melbourne Cemetery. Donations may be made to the National Kidney Foundation. The family is being served by Brownlie Maxwell Funeral Home.
3 entries.
I am completely taken a surprise. I use to run into her all the time at Winn Dixie. I decided to do a search on her today and this is what I found. Jennifer your mother and father are so proud of you. It gives me comfort knowing they both together again but I send my deepest condolences to you and family.
Dear Jennifer, & family, We both played in the band with Cam & enjoyed knowing her for many years. We are so sorry to hear about her passing. Our sympathy is with you
Condolences. I played in the Mel Hi Band in the 40s'. Cam's dad Chick Catterton was the Drillmaster. Also in the Municipal Band and I remember Cam from there. Good memories. God Bless.