Carol Anne Martin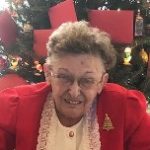 Born on December 24, 1938 in Brooklyn, New York
Departed in Melbourne Beach, Florida on January 12, 2020
Carol Anne Martin (nee Mayott) of Melbourne Beach, FL, and formerly of Islip, NY, died peacefully on Sunday, January 12, 2020 surrounded by loved ones. She leaves behind five children, two step-children, and seven grandchildren.
Carol Anne was born in Brooklyn, NY on December 24, 1938 to Francis and Regina Mayott. She had two older brothers, Francis (Frank) and George. She grew up in the Park Slope section of Brooklyn. Carol had a natural talent on piano and was recruited by the Juilliard School of Music at age 11. Although she chose not to leave home to attend Juilliard, she went to Catherine McAuley Catholic High School and graduated with top honors in English and Mathematics. She married and had five children: Helen Anne, Susan, Patricia, Michael and John. When she became a single mother, she provided for her family working many jobs, but worked over 20 years until her retirement in 1996 as the secretary to the principal in the Connetquot C.S.D.
"The Leader of the "Band"—Carol's children were members of St. Mary's Crusaders Fife, Drum and Bugle Corp at the parish and school they attended. For many years, Carol was the director. She marched with the band in parades and attended dozens of band competitions. She was proud to be the leader of a group of children who practiced diligently and proved themselves, winning trophies as Long Island, New York State, and Northeastern States' champions. During her time as the director, she met James (Jim) Martin, a fife instructor with a "rival" drum corp. They married and Jim's two daughters, Maureen and Elizabeth joined the family. Carol and Jim retired to the home they had built in Melbourne Beach in 1996. Jim had a great love of life and a wonderful sense of humor. He loved to tease Carol, frequently calling her "Tinkerbell" when she became grumpy. Sadly, Jim passed away in 2002. Carol stayed in the home they built, always he "fiercely independent" woman who kept busy working at Publix and keeping records for the La Costa Homeowners Association.
Carol Anne lived happily for many years in Melbourne Beach. She suffered from respiratory illnesses that ultimately led to her death. Her children would like everyone to know that she lived a full life and that the Lord took her to her heavenly home as her family prayed by her bedside.
Carol Anne's family would like to thank the GSN, especially Steve Harvey, for keeping her company and entertained when her family could not be there with her! But, in all seriousness, we would like to thank the compassionate staff of Health First Hospice
Foundation, Seniors Helping Seniors (we love you, Augie), Meals on Wheels and the Homebound Ministry from Immaculate Conception Church for their attentiveness and care during a difficult time for Carol and her family. May she rest in eternal peace.
Calling Hours will be held on Thursday January 16 from 5pm to 8pm and a vigil service at 6pm in the Brownlie – Maxwell Funeral Chapel. A Funeral Mass will be celebrated at 10:30am on Friday January 17 in the Immaculate Conception Catholic in Melbourne Beach.
4 entries.
Beautiful obituary. Our thoughts and prayers are with u all
Best of luck to you family going forward. There is no replacement for Pricella
Rest in Peace baby girl. Thank you for letting me into your heart, one that I will never forget. ????
Dear John and family.; Our hearts go out to you all. May she be at peace and resting in the arms of the lord and her husband. May the lord comfort you all and wrap his arms around you, comfort you in this hour of need! Love; Angelo and Lisa