Carolyn Lee McInnis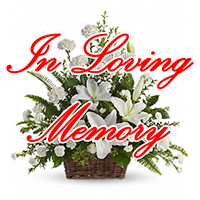 Born in San Antonio, Texas on December 5, 1942
Departed in Melbourne, Florida, on April 2, 2019
Carolyn Lee McInnis, 77, passed away on Tuesday, April 2, in Melbourne, FL. She was born in San Antonio, TX and was a member of the Red Hat Society.
Carolyn is survived by her 4 children, Steve, David, Donna and Greg, 7 grandchildren and 2 great-grandchildren, sister, Barbara Judy.
Services will be held, Sunday, April 14, at 4:00 pm, at the First Baptist Church of Melbourne.
2 entries.
I'm very saddened by my mother's passing. That she had a church family and a relationship with Jesus Christ we look forward our reunions and Heaven. I'm grateful to all the people who were part of her life you meant a lot to her she really enjoyed her life and her card club and her church she was very happy I miss her and I hope to hear again one day may God bless you
I am so sorry for your loss, all of us in the card group and the red hats Miss Carolyn so much already. She was a quiet soul and a powerful mentor for us in kindness and how to follow in Christ footsteps. She's showed us courage these past few years in how she managed to live an active life despite her disease. To know Carolyn was to love her and we all dearly loved her Shirley Cox